By Lin Chunyin from CNS
In 2008, Luís Paulino established the first Confucius Institute in Brazil at São Paulo State University and has been serving as the Brazilian director since then. The Confucius Institute has enrolled over 24,000 students to date, and its cultural exchange activities have reached an audience of over 500,000 people. It has become a bridge of cultural exchanges and a link for mutual understanding between Chinese and Brazilian people.
As the Brazilian director of the first and largest Confucius Institute in South America, Luís Paulino's name is closely associated with China. Recently, Luís Paulino had an exclusive interview with the "W.E. Talk" of China News Service, discussing his 'impressions of China' and future expectations.
Here are excerpts from the interview:
CNS: The Confucius Institute at the State University of São Paulo organized a variety of activities to celebrate the June Festival in Brazil, which coincided with the Dragon Boat Festival in China this year. The Confucius Institute also built a "Dream Dragon Boat", on which I saw many Brazilian students writing down their dreams of studying in China. How do you feel about your efforts and achievements during the past 15 years since the establishment of the Confucius Institute?
Luís Paulino: I feel extremely rewarded for all the efforts made during the last 15 years to promote the teaching of Chinese language and culture in Brazil. When we started working at the Confucius Institute at Unesp, 15 years ago, the teaching of the Chinese language was accessible to very few people and even at universities the number of people dedicated to the study of China could be counted on one hand, it was almost unheard-of academic exchange between Brazilian and Chinese universities. Today we live in a totally different situation. We are already more than a dozen Confucius Institutes in all regions of the country. Tens of thousands of Brazilians study the Chinese language; We have a strong network of researchers on China and on Brazil-China relations, which already includes more than 500 researchers. Every year, hundreds of Brazilian students at undergraduate and graduate levels undertake exchange programs at Chinese universities. All the best Brazilian universities have cooperation agreements with Chinese universities for teaching and research activities. The number of scientific articles jointly published by Chinese and Brazilian researchers increases every year. This, of course, is the result of a lot of effort and work by many people who have been dedicating themselves to deepening the cooperation and friendship between Brazil and China and I feel very happy and honored to be among them.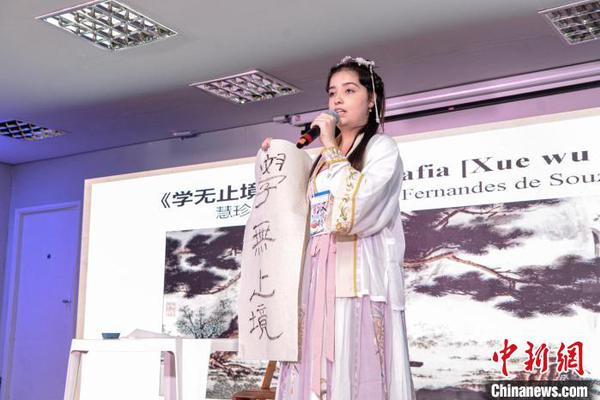 A competition participant displayed the calligraphy work - Xue Wu Zhi Jing (Photo provided by São Paulo State University)
CNS: Over the years, the Confucius Institute at the São Paulo State University has devoted itself to the translation and publication of classic works of Chinese culture, successively translating and publishing nearly ten works in Portuguese, such as The Analects of Confucius, Selected Poems of the Tang Dynasty in China, Tao Te Ching, and the Nanhua Jing, as well as fostering a large number of young translators. Can you talk about this experience? What are your specific plans for future translation work?
Luís Paulino: There is today in Brazil a new generation of intellectuals and translators who have been dedicating themselves to the translation of classical and contemporary Chinese authors into Brazilian Portuguese. This is very important because, unfortunately, there is still very little translated directly from the Chinese language into Brazilian Portuguese, which greatly hinders the access of the general public to the rich Chinese literary, poetic, and philosophical tradition. It was with this in mind that the Confucius Institute at Unesp joined forces with Unesp Press House to promote the translation and publication of the main works of classical Chinese thought. The three works published by Unesp Press House were translated by Giorgio Sinedino, a young Brazilian intellectual, who is currently a professor at the University of Macau and new works are in the pipeline.
CNS: As a senior advisor to the Brazilian Ministry of Sports, you have spared no effort in promoting Sino-Brazilian exchanges and cooperation. Could you tell us about the exchanges and co-operation in terms of sports between the two countries and the "Olympic moments" you have experienced?
Luís Paulino: I worked at the Brazilian Ministry of Sport as head of advisory services between 2012 and 2014 and was more involved in the preparatory activities for the FIFA World Cup, but like Brazil, in that period it was already preparing for the Olympic Games in Rio de Janeiro, which took place in 2016, I had the opportunity to participate in some of the preparation activities. In 2014, I led a Brazilian delegation to China to sign a cooperation agreement with the Chinese Ministry of Sports in the field of sport, and subsequently we held several joint meetings to discuss the advancement of this cooperation in various areas. On that occasion, I visited the city hall of Beijing to exchange experiences with those responsible for organizing the 2008 Beijing Olympic Games and this exchange of experience was very useful for us. We also visited the Beijing Sports University and saw the excellent work done by China in preparing the Olympic athletes, which was also very inspiring for us. Already in 2016, I had the satisfaction of collaborating with the Chinese sports authorities to find suitable locations for the training, in São Paulo, of the Chinese delegation for the Olympic Games in Rio de Janeiro, since the Chinese delegation came to Brazil a month ago before the opening of the games in Rio de Janeiro and needed to find suitable places to acclimatize in Brazil. These are all good memories I have of that period.
CNS: You are a renowned economist who has worked for the Brazilian government. Brazilian President Luiz Inacio Lula led a large delegation to China in April. Both China's President and Brazil's President attended the 15th BRICS Summit in August. In your opinion, what will be the positive impact of the frequent high-level interactions between China and Brazil this year on the relationship between the two countries?
Luís Paulino: Next year we will celebrate 50 years of diplomatic relations between Brazil and China, which were established in 1974. Since then, bilateral relations between Brazil and China have evolved and improved each year until reaching the current stage of a global strategic partnership. In the first two terms of President Lula, in whose government I had the honor of working, Brazil-China relations experienced great advances that continued in subsequent governments. Back in government, President Lula will certainly give new impetus to bilateral relations between the two countries, first because he is a great friend of China and, second, because it is in Brazil's interest to deepen this relationship. China is currently Brazil's main trading partner and China already leads direct investment in Brazil in the most diverse areas, especially in the area of infrastructure and manufacturing production, which are the two areas in which Brazil most needs investment to resume its development process that has been stagnant in recent years. China is an essential partner for Brazil and the frequent meeting between the leaders of the two countries not only signals that these relations will deepen even more, but also gives confidence and tranquility to Brazilian and Chinese businessmen to further increase investments in joint activities.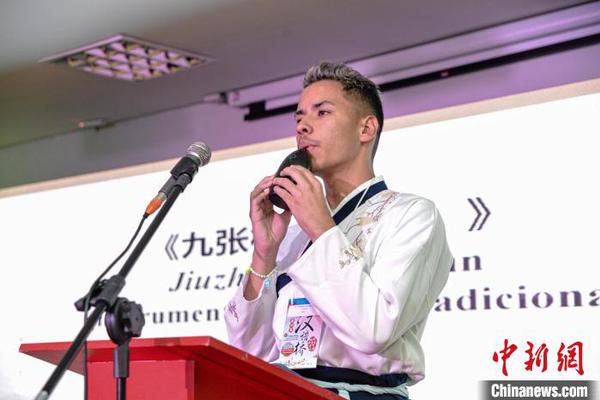 A participant showed his skill in a Chinese instrument. (Photo provided by São Paulo State University)