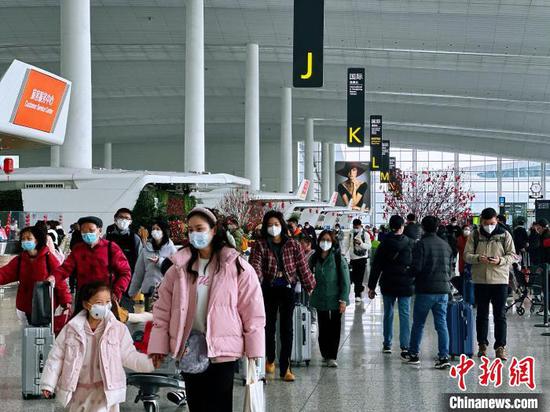 Photo shows Guangzhou Baiyun International Airport, Jan. 28, 2023. (Photo provided to China News Sservice)
(ECNS) -- With most people in China having been infected with COVID-19, herd immunity has been reached and the transmission ability of the epidemic gradually weakens, said Fang Bangjiang, a doctor from Longhua Hospital Affiliated with Shanghai University of Traditional Chinese Medicine, on Friday.
Data released by the Chinese Center for Disease Control and Prevention on Wednesday shows that nucleic acid testing in different provinces found that both the number of infected cases and the positive proportion had increased at first, then decreased since Dec. 9, 2022.
Infections dropped to a minimum of 15,000 on Jan. 23, 2023 after reaching a peak of 6.94 million on Dec. 22, 2022, while the positive testing rate peaked at 29.2 percent on Dec. 25, 2022 and then gradually decreased to 5.5 percent on Jan. 23, 2023.
The weakening spread of COVID-19 in China caused by herd immunity became the hottest topic on Chinese social platform Weibo on Saturday.
The epidemic develops periodically, experiencing peaks and troughs, which is in line with the development law of a virus, for example, the U.S. and Japan have experienced several peaks since the outbreak of COVID-19, said Qiao Shubin, from the Beijing Hospital of Integrated Traditional Chinese And Western Medicine in Fengtai District, on Friday.
Nearly 80 percent of people in China have been infected with COVID-19 since the country announced 20 new measures for optimizing its epidemic response, reaching a small infection peak, said Qiao, adding that although there will be no peak in the short term, it does not mean the epidemic will disappear, and it is necessary to take measures to protect people.