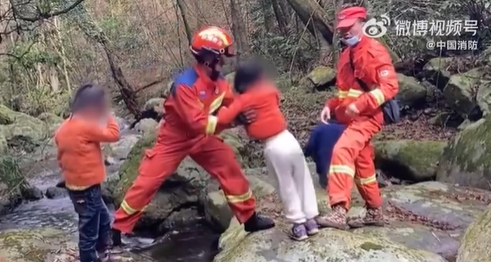 Screenshot Photo
(ECNS) -- Six tourists trapped in Wuzhishan (aka Five Finger Mountain) in south China's Hainan were successfully saved by firefighters on Monday afternoon after 21 hours.
On Jan. 22, the first day of the 2023 lunar calendar, Wuzhishan fire and rescue corps received an alarm calling for help. Six tourists including three adults and three 8-year-old girls got lost and were trapped in the Wuzhishan scenic spot.
Considering the possibility of hypothermia at night, a rescue team composed of firefighters and a tour guide carrying rescue equipment, drinking water, food, and medicine immediately embarked on a search operation.
After seven hours' search, the rescue team finally found the six trapped halfway up the third peak of the mountain at 4:20 a.m. on Monday. Firefighters brought them warm clothes and confirmed they were fine.
The location is undeveloped, making it unsafe to carry out a rescue operation at night. This prompted the rescue team to rest in place until dawn.
At 3:55 p.m. on Monday, all those trapped were sent to the foot of the mountain successfully.