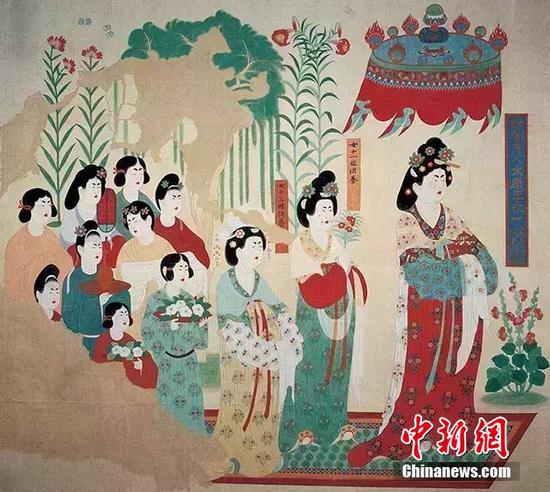 Photo shows a Dunhuang fresco in northwest China's Gansu Province. (Photo/China News Service)
(ECNS) -- Researchers from Tianjin University have found that Dunhuang fresco information can be stored for tens of thousands of years through DNA data storage.
Compared with conventional storage substances like magnetism, light and electricity, DNA is considered an ideal storage medium due to its high density, according to Yuan Yingjin, an academician of Chinese Academy of Sciences and vice president of Tianjin University.
DNA information storage mainly consists of writing and reading. It breaks the boundary between organic and inorganic, connecting the two systems of life and information.
The research team from Tianjin University has stored some video clips inside DNA, with the volume storage density six orders of magnitude larger than that of hard disks.
DNA storage features longer durability, with the information of 10 Dunhuang frescoes able to be stored for about 1,000 years under ambient temperatures and 20,000 years at 9.4 degrees Celsius.
In addition, energy consumption related to DNA storage is low so it is considered of great potential in the era of data explosion.
At present, the cost of information writing for DNA storage is equivalent to that of memory in 1980s and it needs to be reduced by seven to eight orders of magnitude compared with the current cost of data storage.
"The cost of DNA data storage is possible to be reduced in the future," said Han Mingzhe, a PhD student from the Frontiers Science Center for Synthetic Biology at Tianjin University.
He believes that the cost of DNA data storage could be lowered though improving synthesis reactions, chip structure, and reagent distribution, and by replacing cheap consumables.