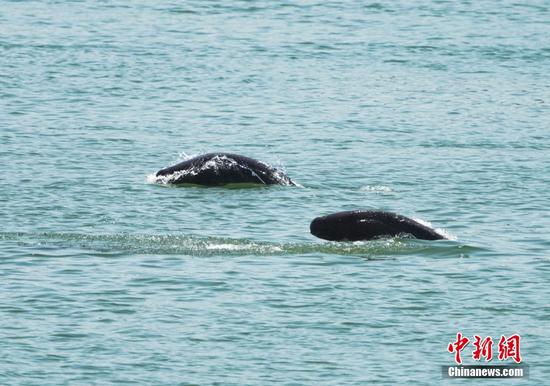 Two finless porpoises frolic in the Yangtze River. (Photo/VCG)
(ECNS) -- A 2022 scientific expedition for finless porpoise protection was launched in the Yangtze River on Monday. This is the fourth scientific expedition for the protection of this species since 2006, 2012 and 2017.
The scientific investigation to be conducted by 120 members and over 20 fishery administration vessels covers the middle and lower reaches of the Yangtze River, as well as Poyang Lake, Dongting Lake, and some tributaries of the Yangtze River.
This expedition will investigate the population distribution and habitats of the species, evaluate their quantity, structure, and changing trends, analyze reasons behind their endangered status and the effect of protection measures to formulate a targeted protection plan.
The Yangtze finless porpoise is a first-class protected animal in China as well as an indicative species of the Yangtze River ecosystem.
The scientific expedition in 2017 showed that the number of finless porpoises was 1,012 and that the species was extremely endangered.