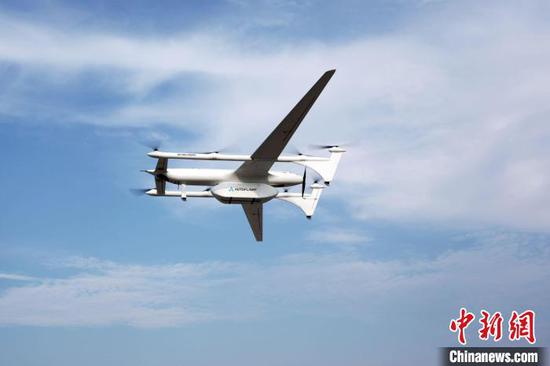 Photo shows a White Shark electric drone for food delivery. (Photo provided by AutoFlight)
(ECNS) -- A drone delivery route for food was put into trial operation on Thursday between downtown Shantou City in Guangdong Province and Nanao County, the province's only island county.
Customers in Nanao can order takeout on food delivery Apps and fill in their address, then delivery workers will take customer orders to drones at the yacht wharf in Shantou, and the food will be delivered to local workers after crossing the sea and finally reach the customers.
With a cruising speed of 100km/h, the White Shark electric drones take off vertically with up to 20 kilograms load and travel a maximum range of about 230 kilometers.
The trip between the yacht wharf and the Qingao Bay in Nanao takes about 30 minutes. It is a new pollution-free low-altitude logistics means.
The drones delivered over 30 orders with 10 flights during the Mid-Autumn Festival holiday.
The trial operation will last until the end of the National Day holiday (October 1-7). Emergency drugs and special materials will be delivered.