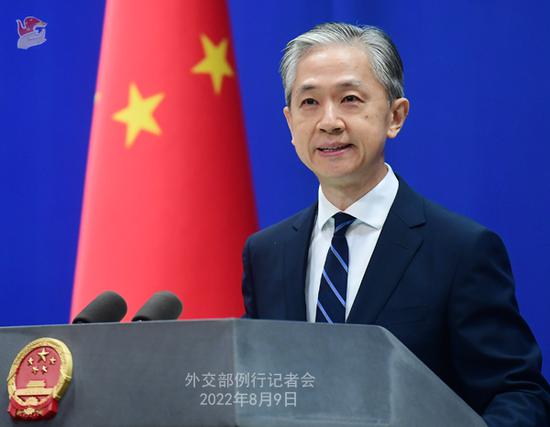 Chinese Foreign Ministry spokesperson Wang Wenbin speaks at a regular press conference, August 9, 2022. (Photo/fmprc.gov.cn)
(ECNS) -- Any attempt to replicate the "nuclear sharing" model in the Asia-Pacific is sure to meet firm opposition and severe countermeasures if necessary from regional countries, said Chinese Foreign Ministry spokesperson Wang Wenbin at a regular press conference on Tuesday.
Some Japanese politicians have lately been clamoring for "nuclear sharing" with the U.S., and in its report submitted to the 10th Review Conference of the Treaty on the Non-Proliferation of Nuclear Weapons (NPT), the Japanese government deleted the Three Non-Nuclear Principles, which had appeared in previous reports.
For this reason, the Chinese representative made clear China's stern position at the conference, pointing out that a "nuclear sharing" arrangement violates the provisions of the NPT, said Wang Wenbin.
China hopes the Japanese side will honor its words, earnestly fulfill its international obligations of nonproliferation, and safeguard regional peace and stability in a responsible manner, said the spokesperson.