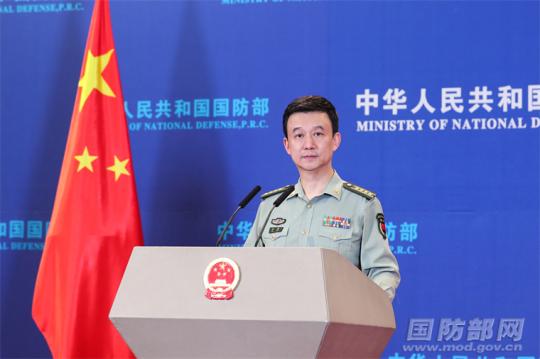 File photo of Wu Qian, a spokesperson for China's Ministry of National Defense. (Photo/mod.gov.cn)
(ECNS) -- It is the United States that has provoked and escalated tensions across the Taiwan Straits, therefore, it must take full responsibility and bear serious consequences for it, said the spokesperson of China's Ministry of National Defense Wu Qian at a press conference.
China has expressed its solemn position on China-U.S. military relations and the Taiwan issue, and especially lodged solemn representations over the visit to China's Taiwan region by Nancy Pelosi, speaker of the U.S. House of Representatives, but the U.S. connives at and supports Pelosi's visit and maliciously created tensions in the Taiwan Straits, said Wu.
In response to such a provoking move, China on Friday announced eight countermeasures including canceling China-U.S. Theater Commanders Talk, China-U.S. Defense Policy Coordination Talks (DPCT), and China-U.S. Military Maritime Consultative Agreement (MMCA) meetings.
These countermeasures are a necessary warning to the provocation of the U.S., as well as a legitimate defense for national sovereignty and security, said Wu, adding that they are completely reasonable, appropriate and moderate.
We will not allow the bottom line to be crossed, and we believe that communication requires sincerity. China firmly opposes the U.S. claims to control the crisis while creating a deliberate crisis, said the spokesperson.
Wu urges the U.S. to earnestly respect China's core interests and major concerns, give up the illusion of "containing China with Taiwan" and refrain from going further down the wrong path.