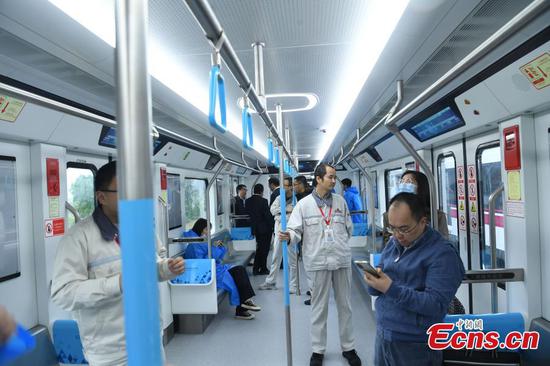 People take China's first urban rail vehicle with a dual-current system in Chongqing, Oct. 20, 2021. (Photo: China News Service/Chen Chao)
(ECNS) -- Chongqing's first suburban railway, the Tiaodeng-Jiangjin line and the first dual-current railway in China, began operation on Saturday afternoon.
The line stretches about 28 kilometers from Tiaodeng Township in Dadukou District and ends in Jiangjin District, a one-way journey lasting about 28 minutes.
The Tiaodeng-Jiangjin line uses a dual-current system, enabling trains to be powered by both alternating and direct currents. It features strong climbing capability, a small turning radius, and a large passenger capacity.
This line has laid a foundation for accelerating the integration of Jiangjin District into the central urban area of Chongqing, said Li Shuqing, a professor at Chongqing Jiaotong University.
It will connect with Line 5 of Chongqing's urban rail transit this year. The convenient transfer between it and the planned Line 7 and Line 17 will be realized in the future, said the Chongqing Municipal Commission of Housing and Urban-Rural Development.