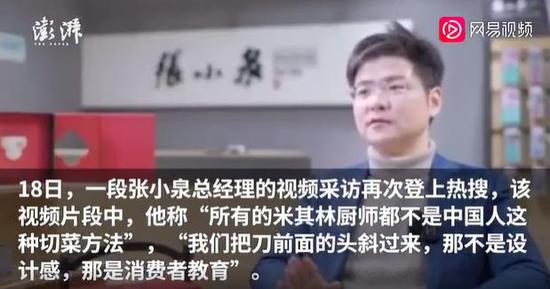 General manager of Chinese knife brand Zhang Xiao Quan apologizes for inappropriate remarks. (Screenshot from the Paper)
(ECNS) -- The general manager of Chinese knife brand Zhang Xiao Quan on Monday apologized for his inappropriate remarks after netizens complained the kitchen knife of the brand failed to smash garlic.
"I sincerely apologized to everyone here regarding the recent incident," Xia Qianliang, general manager of Zhang Xiao Quan, said on his Weibo account.
The knife manufacturer drew the ire of netizens recently due to a video posted on the internet by a consumer.
In this video, the consumer tries to smash garlics with the knife, but its blade was broken unexpectedly. Then the company replied saying that "a kitchen knife cannot smash garlic."
Later, an interview with the general manager in March this year was posted on the internet in which the general manager said that "the way that (Chinese) have been taught for decades is wrong. No Michelin chefs cut like that."
Such remarks have triggered another round of debates among netizens, who criticized Zhang Xiao Quan for refusing to acknowledge the bad quality of its products.
Xia later apologized, saying if a kitchen knife purchased in China had accidentally broken in the past five years, including of his own brand and its rivals, the company would offer a replacement of similar value.