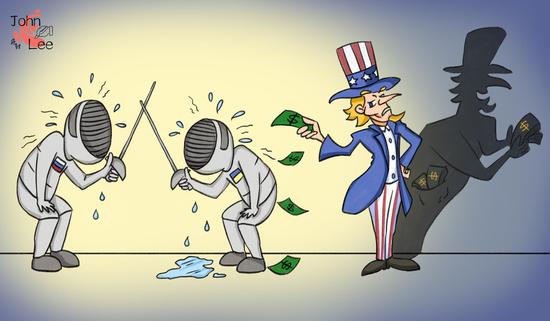 Special: Commentary
(ECNS)-- U.S. President Joe Biden said Wednesday his administration will provide Ukraine with an additional 800 million U.S. dollars' worth of military.
Instead of contributing to de-escalation, the U.S. has been sparing no efforts in stoking tensions in the region, shipping weapons into Ukraine and pushing its European allies to impose sanctions against Russia.
Its efforts have "paid off." Since the Russia-Ukraine conflict started, the top five biggest defense contractors in the United States have seen their stock prices skyrocket. In March, U.S. liquefied natural gas exports grew nearly 16 percent to a record high, according to preliminary Refinitiv data, with shipments to Europe continuing to dominate.
The U.S. tries all the way to maximize its self-interests at the cost of others, revealing its true color of hypocrisy and egomania before the eyes of the world. (John Lee)