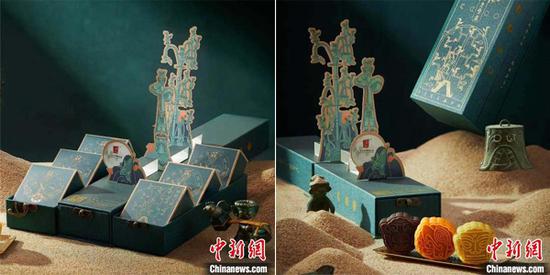 This combo photo shows Sanxingdui Museum Mooncake gift boxes. (Photo provided by Sanxingdui Museum)
(ECNS) -- As the Mid-Autumn Festival approaches, mooncake makers are trying their best to innovate shapes, ingredients and flavors to appeal to younger clients.
With "Generation Z" consumers the new driving force behind mooncake market growth, breakthroughs are essential, said Wang Yi, a professor at the School of Business Administration of the Southwestern University of Finance and Economics.
Mooncakes equipped with cultural attributes could meet the demand of self-expression among young customers, Wang added.
Today, more and more customers prefer mooncakes with lower calories and fat, according to Song Yan, a mooncake saleswoman in Chengdu. Once served as exclusive festival food to diabetics, sugar-free mooncakes have become a selling point for many brands. Now, low-sugar, oil-free, low-fat, and even fruit mooncakes are catering to modern demands.
"New tags should replace old mooncake stereotypes," Wang said.
Peng Bo, a 27-year-old Chengdu native who has reserved five kinds of mooncake gift boxes released by Sanxingdui Museum said, "Innovative mooncakes are attractive, but I would still only buy them if they taste good."
Mooncake competition has turned sizzling-hot. Those with bold fillings like crayfish, Luosifen, and macarons, or shaped like cartoon characters, lovely animals, flowers, and trees, etc. have become popular among "Generation Z" consumers.
It is estimated that mooncake sales in China in 2021 would reach 21.81 billion yuan ($3.38 billion) due to the continuous growth of the Chinese economy and the increasing willing to visit relatives and friends after the pandemic is brought under control.