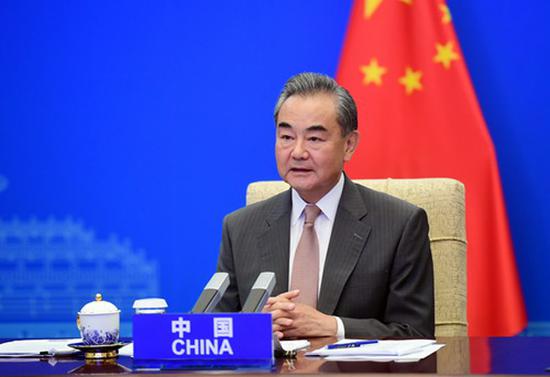 Chinese State Councilor and Foreign Minister Wang Yi speaks at the G20 Foreign Affairs Ministers' Meeting via video link in Beijing, June 29, 2021. (Photo/fmprc.gov.cn)
Special: Battle Against Novel Coronavirus
(ECNS) -- China has so far provided over 450 million doses of vaccines to nearly 100 countries, said Wang Yi, Chinese State Councilor and Foreign Minister, on Tuesday.
Wang made the remarks at the G20 Foreign Affairs Ministers' Meeting via video link in Beijing.
He said G20 members should stay united and work together to lead the way in the global fight against COVID-19.
Wang called on G20 members to deliver the outcomes of the Global Health Summit at a faster pace, step up cooperation on vaccines, diagnostics and therapeutics, and coordinate COVID-response efforts in a science-based manner, and provide stronger support for developing countries.
He also called on countries with the capacity to refrain from imposing export restrictions and excessive hoarding, and do their part to close the immunization gap.