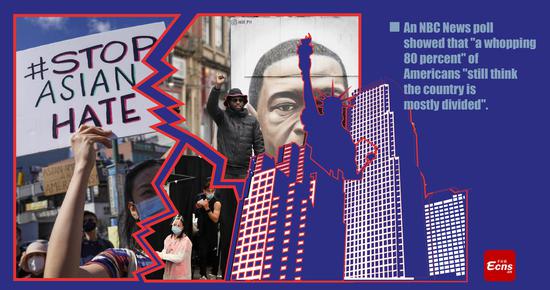 An NBC News poll showed that "a whopping 80 percent" of Americans "still think the country is mostly divided." (Picture by Yao Lan)
By John Lee
(ECNS) -- An NBC News poll showed that "a whopping 80 percent" of Americans "still think the country is mostly divided."
Behind the number are complaints that the pandemic has not been effectively controlled, their disappointment at the U.S. government's inability to eradicate racism, and their dissatisfaction with the ongoing political games played by the country's two dominant parties.
Today, with racial discrimination and many social issues remaining to be solved, American politicians are still keen on fabricating lies and grossly interfering in other countries' internal affairs. No wonder most Americans have lost faith in their country. The U.S. should focus on its own problems, otherwise, it may become even more divided.