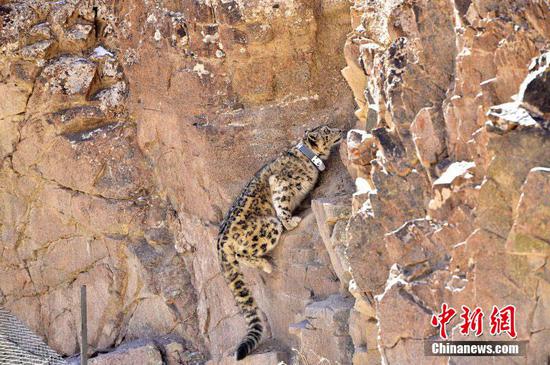 A snow leopard with a GPS collar was captured in Yanchiwan National Nature Reserve in Subei County, Jiuquan City, Gansu Province. (Photo provided to China News Service)
(ECNS) -- China's snow leopard satellite has acquired new data recently, the publicity department of Subei Mongolian Autonomous County Committee of Jiuquan City, Gansu Province announced on Wednesday.
The results have opened a new chapter in the study of the behavioral ecology of the Chinese snow leopard.
The snow leopard, known as "King of Snow Mountains," is one of China's first-class protected animals. They usually live near the snow line between 3,500 and 5,500 meters above sea level.
Conducted by several Chinese mainland research institutes and related institutions in Yanchiwan National Nature Reserve of Gansu Province, the tracking aims to bolster the study of habitat selection, spatiotemporal dynamics and other aspects, and promote the formulation and implementation of snow leopard protection plans.
Starting December 2020, the administration of Yanchiwan National Nature Reserve along with institutions like Beijing Forestry University, Beijing Zoo and Wild World Jinan, jointly commenced satellite tracking of snow leopards. In accordance with relevant administrative permission, the research group plans to capture two live wild snow leopards and carry out satellite tracking by fitting them with GPS collars.
After more than two months of monitoring, a snow leopard was captured in early February this year. Professional veterinarians conducted a physical examination under anesthesia and found it was an adult female snow leopard in good health.
The snow leopard was released into the wild after the measuring of various physical signs and fitting a GPS collar.
After nearly a month of tracking, this female snow leopard is still active in the nearby area, with its collar and satellite data responding as normal, according to the research team, which noted China's first snow leopard satellite tracking has achieved initial success.
The research team will further analyze the acquired satellite data to fully understand the snow leopard's movement, home range and habitat selection in the Yanchiwan area.
This mission has accumulated a lot of work experience for future scientific capture, location and tracking of medium and large predators, trained a group of professional snow leopard tracking personnel, and improved the protection system for snow leopards and their habitats in Yanchiwan Nature Reserve, the research team commented.