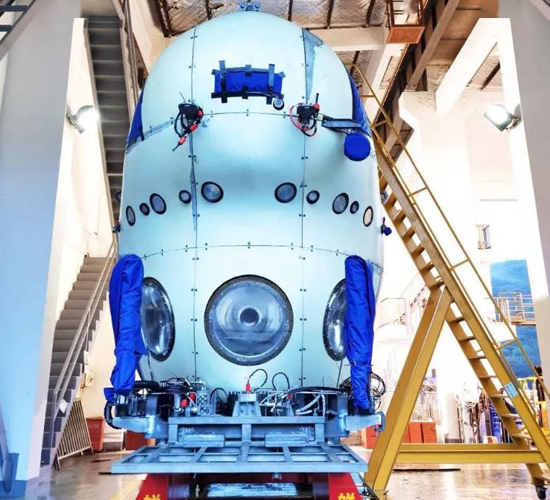 A deep-sea manned submersible capable of 10,000-meter dives is assembled. (File photo/CGTN)
(ECNS) -- A deep-sea manned submersible capable of 10,000-meter dives will explore Challenger Deep, the deepest part of Mariana Trench in the Pacific this year, according to China State Shipbuilding.
Mariana Trench is the deepest known trench on Earth.
The submersible was assembled in March and started complete pool flow testing to last till June.
Technologies including spherical shell welding and buoyancy material will provide necessary support during the dive, said Ye Cong, its chief designer.
Researchers ditched the original melon petal design for a spherical shell, reducing the number of welds and significantly improving stability.
The submersible is expected to conduct sea tests in coastal waters before attempting its 10,000-meter dive, Ye confirmed.
The yet-unnamed submersible is not China's first to be manned.
In June 2012, China's first deep-sea manned submersible, named after mythical sea dragon Jiaolong, set a world record by diving 7,062 meters down Mariana Trench.
Shenhai Yongshi (or "deep-sea warrior"), China's second deep-sea manned submersible, is able to dive underwater to a depth of 4,500 meters.