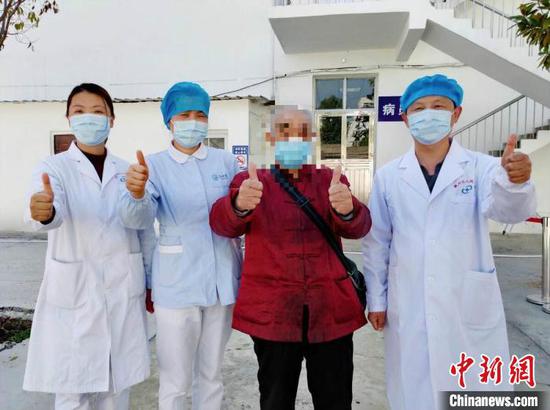 A 90-year-old man (R, 2nd) was discharged from hospital in Xiangyang, Hubei Province, March 15, 2020. (Photo/China News Service)
Special: 2020 Two Sessions
(ECNS) -- In Hubei Province, more than 3,600 COVID-19 patients over the age of 80 have been cured, including seven over the age of 100, said a deputy to the third session of the 13th National People's Congress on Friday.
With Hubei hard hit by the epidemic, local medics, alongside 43,000 assisting medical workers from across China, have fought around the clock to save every life, said Luo Jie, president of Taihe Hospital in Shiyan, Hubei Province.
An 87-year-old man suffering hypertension, diabetes, COPD and other complications was diagnosed with COVID-19 and admitted to hospital in critical condition, Luo said.
The hospital designated a special team including a chief physician, a resident physician, a traditional Chinese medicine practitioner, four nurses, a nutritionist and a psychological counselor to the case.
Though the elderly patient's condition at first deteriorated, persistent effort helped save his life after 47 days.
The elderly man was just one of the 3,600 cases.
With national support, great success has been achieved in the province in curbing the spread of the virus .
As of May 21, Hubei had reported 68,135 confirmed cases in total, with 63,616 cured and discharged from hospital, and 4,512 lives claimed. Seven patients remain under treatment in Wuhan, including one severe and one critical case.
Hubei has recorded no new fatalities after three months of great strife.