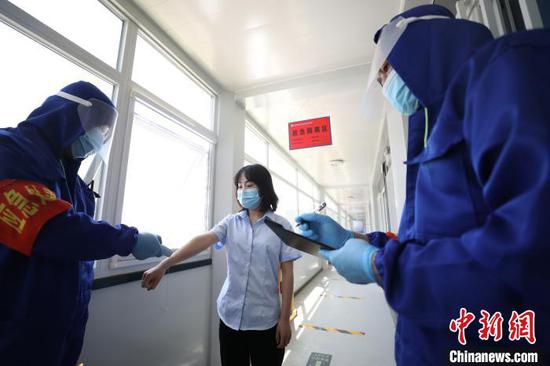 An emergency drill on COVID-19 prevention is held in Changping District, Beijing, May 19, 2020. (Photo/China News service)
Special: Battle Against Novel Coronavirus
(ECNS) -- Beijing will normalize prevention and control measures against the novel coronavirus although it has not registered new confirmed COVID-19 cases for 35 consecutive days since April 16.
By Wednesday, a total of 174 confirmed cases have been imported from overseas, 170 of which were discharged from hospital, according to Beijing Municipal Health Commission on Thursday. Of the 419 domestic confirmed cases, 409 have been discharged, nine died and one remains in hospital.
Altogether, five remaining coronavirus cases are still under treatment in Beijing.
Daily health monitoring will continue to be strengthened and outpatient screening for fever will continue, according to the latest meeting on COVID-19 prevention and control.
Limited passengers on buses and subways will be ensured, it was stressed.
Meanwhile, the city will remain alert to potential imported cases, with inbound flights to undergo nucleic acid tests.