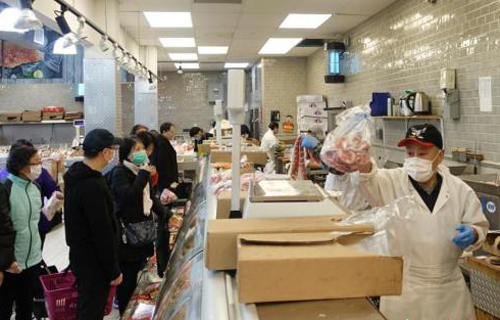 Customers line up at a Chinese supermarket in Flushing, New York, March 18, 2020. (Photo/China News Service)
Special: Battle Against Novel Coronavirus
(ECNS) -- Overseas Chinese supermarkets are gradually reopening as local governments begin easing lockdown measures amid the coronavirus pandemic, yet the businesses must find new ways to survive due to a lack of goods and employees.
Asia-Union Foods, one of the largest Chinese supermarket chains in Spain, registers about 800 to 1,000 customers every day, half as many before the outbreak of the pandemic, according to Pan Wenyao, president of the supermarket chain.
To make matters worse, more than half of its 70 employees quit their jobs and Spain's food manufacturers partially resumed work at the beginning of May, so a lack of food supplies is common.
The New York Mart that had been closed for nearly a month has reopened in New York city. Deng Long, chairman of the supermarket, said that employees refuse to go to work for fear of the virus, even though they could get a raise in pay.
The supermarkets have turned to online sales, but as online orders soar, logistics distribution has lagged behind.
Asia-Union Foods suspended its online sales at the end of March because of the inefficiency of local delivery.
"There were too many orders and too few staff members, and I had to deliver the goods in person," said the president of Asia-Union Foods.
To solve the deficiency in distribution, they have explored a new mode of "ordering online and picking the goods up at the store."
"We get the goods ready so customers can come in and take them away immediately," said the Asia United Supermarket chairman. "Thirty percent of the orders at the store are done that way," Pan added.
The T&T Supermarket in Canada also adopted this method. Customers order online, set a pick up time and drive their cars to the parking lot, where goods are put into their trunks.
After the "cold winter," these overseas Chinese supermarkets are still seeking new business opportunities.
"The Argentine government has recently imposed strict price control measures on basic commodities, leaving little room for profit," said Ye Zhao, general manager of the Ultramar Supermarket in Argentina. Daily turnover has dropped from 600,000 Argentine pesos before the outbreak to 200,000, Ye said.
"When will business get better? I don't know," said Pan.