Special: Battle Against Novel Coronavirus
Businesses have taken major hits this year with the COVID-19 pandemic continuing to decreasing economic activities. Yet there is a silver lining in the coronavirus-triggered downturn in China as new business and entrepreneurship just gained more momentum.
As China enters the post COVID-19 phase, the economy is recovering more quickly — part of the credit should be going to hi-tech startup companies and the entrepreneurs who are being lauded for creating new business formats that not only change the way Chines people live under lockdown, but impact how people rethink over future economic dynamism.
Since the beginning of 2020, job openings of livestreaming-based marketers and operations increased by 130 percent compared to the same time last year. Hiring of medics increased 30.42 percent year on year, and the job application rate in such areas grew by 1.47 percentage points. The urgent needs of professional workers, the availability of workforce at home, and a dearth of employment alternatives may have combined to create stronger momentum for entrepreneurs than in pre-COVID-19 years.
A bunch of newly popular jobs such as livestreamers, blockchain operators, health assistants, nutrition advisors and nucleic acid testers, have helped shape a conventional wisdom that both public and private sectors need to acquire: technology-spurred economic transformation is faster and fiercer than ever, along with the hit of the coronavirus.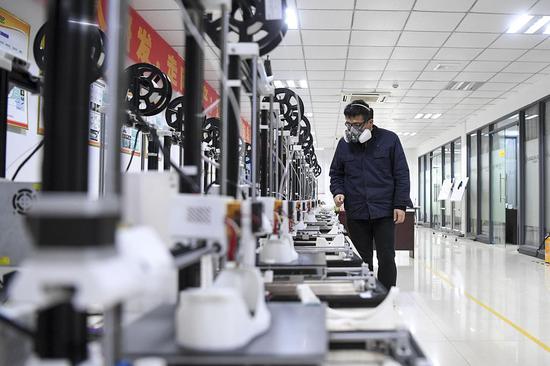 3D-print medical goggles are used in fighting COVID-19 in China. (CGTN Photo)
An outsized role
High-tech companies play an outsized role in job creation during this special period of time.
Non-essential businesses were closed during the peak of COVID-19 infections in China, from shopping malls to street stores, restaurants to real estate projects – they were having such financial difficulties. Sadly, we know some will survive, and others won't.
However, we still see e-commerce tycoons like Taobao and JD.com are getting even stronger as people rely on them to satisfy basic life needs. This is echoed by online messaging platform DingTalk and tech education group Tomorrow Advancing Life, who are out there beating out traditional ways people work and study. The new types of internet-related jobs are catalyzed as a result. Livestreamers don't need to hide their marketing talent under the title of "sales" anymore, and teachers can have some professional training to teach through virtual classrooms.
"Tomorrow Advancing Life (TAL) has been exploring online education for many years. To minimize the effect of the pandemic, we are adapting a 'two-teacher' mode currently, which features a live streaming lecture teacher and assignment tutor for every student," said Yang Yuxue, executive of TAL's communication department. She emphasized that besides an overall switch to online teaching, they've taken quick action offline to match students' needs, from installing necessary devices to creating virtual classroom agenda for teachers. The group has provided over 20,000 positions worldwide since the pandemic, most of them are online teachers.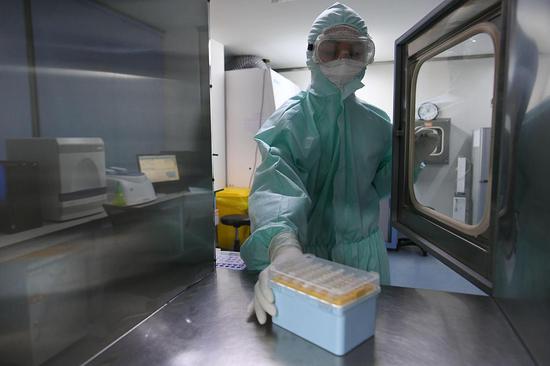 Nucleic acid tester is a legitimate job according to a national announcement issued recently.(CGTN Photo)
An important contributor
"While older and larger firms are the major source of employment levels in our country, it is new and young businesses that are the primary source of new jobs," said Donghui Mao, the director of X-Lab in Tsinghua University, a non-profit university-based educational innovation platform that aims at nurturing STEM students into social entrepreneurs through international incubations.
"It is not the COVID-19 that spawned those new job roles, but the development of the internet and the digital economy in China in the past twenty years, which laid a very solid foundation for industries to cope with the pandemic in an intelligent way. If you look at it in a bigger picture, the new jobs are the results of the economic operation laws," Mao told CGTN.
This is a structural change, according to Mao. The big but slow enterprises can't compete with new businesses in terms of grasping market opportunities with technologies. Individuals who are more prepared, agile, and diligent will stand out at this turning point of an era. Truly, today's young talents are offered an open-minded environment to create, explore, taste success and failure. And they are the very group of people that can make difference, especially when facing unexpected crisis like the coronavirus.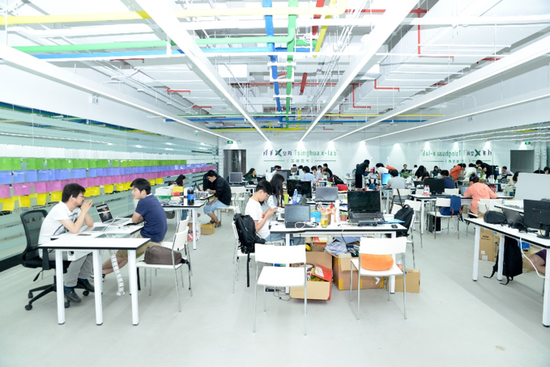 With over 624 startups already incorporated, X-lab helps startups across all sectors and industries, and a total of 200 X-lab startups raised over 8.53 billion RMB combined. (CGTN Photo)
During COVID-19, internet-related jobs were responsible for about 60 percent of new job hiring in major cities in China, which has important local spillovers. The jobs themselves reflect a signal that China's digital economy, after decades of development, is evolving into a more advanced and mature system. No matter it's blockchain researchers or 3D printing operators, the core of these new jobs is in the following of the tide of digital dynamics.
Eventually, we will overcome the pandemic and go back to normalcy. Certain pre-COVID-19 customs, such as working at a cubicle, studying in the classrooms, flying around the world to meet clients, will all be questioned, and changed. New standards of life, such as virtual happy hours, working by Zoom, online clinics, will be a necessary part one day.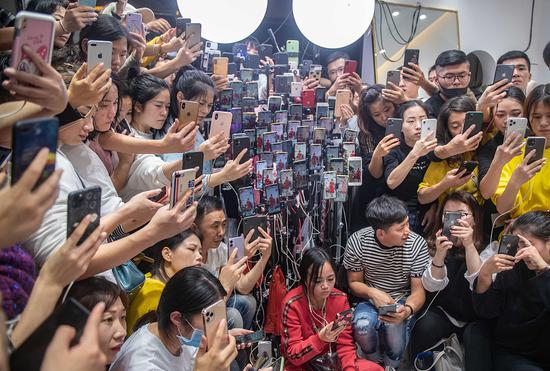 Live streaming is booming in China during the pandemic. (CGTN photo)
"Hi-tech startups and small business are robust despite COVID-19 outbreak," said Calvin Jiang, the founder of a hi-tech consulting firm in Beijing. He believed that there will be a slowdown or "up-or-out" among the competition, yet the domestic employment market will prove the hi-tech talents are becoming the very engine of Chinese economy.
After the 2008 great recession, top universities in the United States have launched various startup incubation to find a way out there to boost the labor market. According to U.S. Bureau of Economic Analysis, the average employment in 2011 at high-tech and information and communications technology firms surpasses those across the private sector as a whole. In turn, China is experiencing a similar kind of stage currently that a new cycle of job creation is yet to come.
Social crises are always a window for new businesses and young entrepreneurs to advance. "They should never forget to work harder to realize their value and keep contributing to our society," said Dr. Mao.