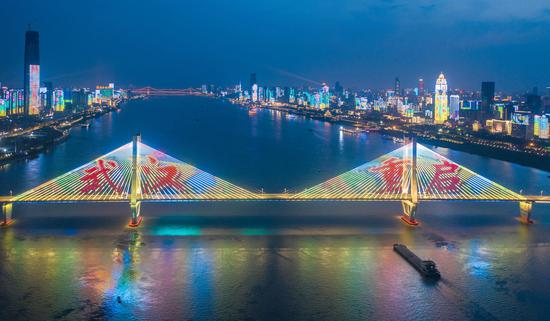 A light show was staged on the No. 2 Wuhan Yangtze River Bridge and along banks of the Yangtze River in Wuhan, April 6, 2020, to celebrate the upcoming lifting of lockdown of the city. (Photo/China News Service)
Special: Battle Against Novel Coronavirus
(ECNS) -- A large light show was staged on the banks of the Yangtze River and the Hanjiang River, witnessing the "restart" of Wuhan, as the city hard hit by the novel coronavirus ends its 76-day lockdown Wednesday.
At midnight on April 8, with the familiar bell on the roof of Jianghanguan ringing and the horns of ships docking on the river whistling again, lights on more than 1,000 buildings and landmarks, including the well-known Yellow Crane Tower, began shining, gradually turning red from blue.
"Lifting the lockdown does not mean an overall victory in the fight against the epidemic," said an official from Wuhan COVID - 19 Epidemic Prevention and Control Headquarters.
The bell indicates the beginning of a new day and also a warning alarm as well, he added.
Cartoon images of those who have fought against the epidemic outbreak appeared on the walls of buildings, including medical workers, construction workers, police officers, community workers, delivery workers, volunteers, cleaners, etc.
Names of provinces, autonomous regions and municipalities that have dispatched medical teams to Wuhan shone on the two main towers of the No. 2 Wuhan Yangtze River Bridge.
Words and expressions saluting the city for its great sacrifice appeared on the Guishan TV tower.
On Jan. 23, the city declared unprecedented traffic restrictions, including suspending the city's public transport and all outbound flights and trains, in an attempt to contain the epidemic.
Even though it was midnight, many people arrived to watch the days-long light show.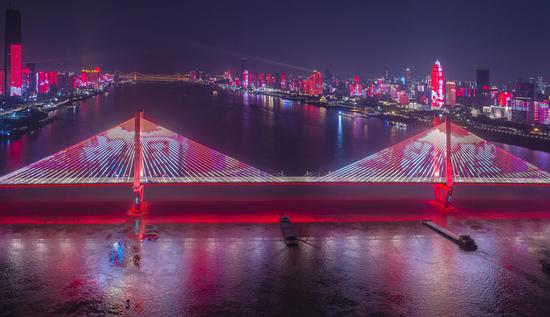 A light show was staged on the No. 2 Wuhan Yangtze River Bridge and along banks of the Yangtze River in Wuhan, April 6, 2020, to celebrate the upcoming lifting of lockdown of the city. (Photo/China News Service)