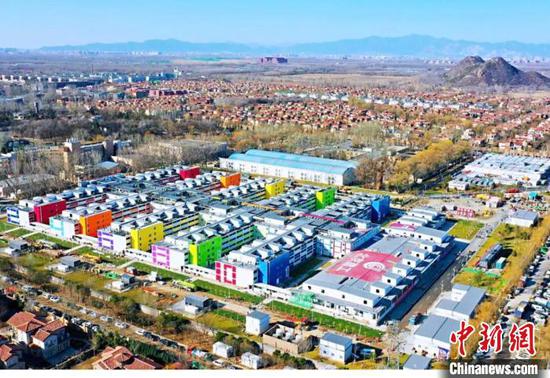 Xiaotangshan Hospital in Beijing has been painted with bright colors. (Photo provided to China News Service)
Special: Battle Against Novel Coronavirus
(ECNS) -- The first batch of overseas returnees quarantined after transferral from Beijing airports have been discharged from northern Beijing's Xiaotangshan Hospital over the weekend.
The restart of Xiaotangshan Hospital, the instant infirmary built to treat patients infected with severe acute respiratory syndrome in 2003 to fight SARS, processed orderly.
Professional groups with different hospital characteristics have been set up to help different people.
Wards have been painted with bright colors, with a number of eye-catching signs, sun-filled corridors and other designs, creating an "at-home" atmosphere.
Medics there have received many thank-you notes. "Xie Xie! (Thank you!) You guys are the real heroes!" someone wrote.
Luo Jinkai, head of the nursing team at the hospital and director of the nursing department at Beijing Friendship Hospital, said he hopes everyone who had returned from overseas would feel at home here.
For the convenience of overseas returnees, bilingual posters in both Chinese and English are put up in each room.
Language translation software is downloaded from mobile phones in the ward, and the hospital also provides both Chinese food and Western food.
"Thank you for your care during these days. Everyone is so gentle and professional. The 'welcome home' on your clothes is so heart-warming," one returnee said, adding "it is reassuring that you 'guard the door' here."
Beijing put the Xiaotangshan Hospital into use on March 16, with more than 1,000 beds prepared for the screening and treatment of imported mild and common confirmed COVID-19 cases, suspected cases and those who need to be tested.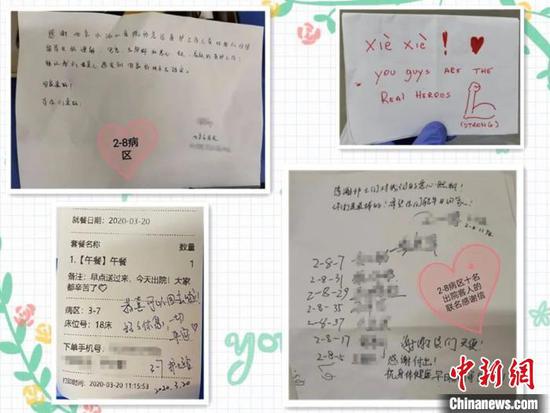 All kinds of thank-you notes are sent to medics at Xiaotangshan Hospital in Beijing. (Photo/China News Service)