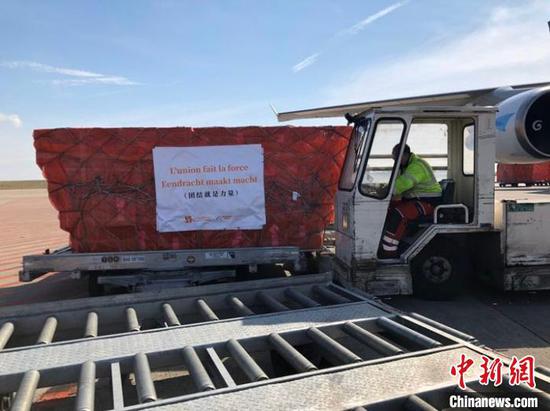 Medical supplies donated by Alibaba Foundation arrive at the airport in Liege, Belgium, March 16, 2020. (Photo provided to China News Service)
Special: Battle Against Novel Coronavirus
(ECNS) -- Local authorities and businesses across China are adding their weight to the global fight against the novel coronavirus pandemic since the epicenter shifted to Europe.
Chongqing Municipal Government has donated 30,000 FFP2 face masks and 150,000 surgical masks to Italy, and 50,000 KF94 face masks and 100,000 surgical masks to the Iranian government and its city of Shiraz.
Chongqing also donated a batch of medical supplies to some foreign sister cities, including 5,000 N95 face masks and 15,000 surgical masks to Seoul, South Korea, and 5,000 N95 face masks and 10,000 surgical masks to South Jeolla Province.
It plans to donate to more cities in South Korea.
Jack Ma Foundation and Alibaba Foundation announced on Weibo that they would donate 2 million face masks, 150,000 test kits, 20,000 protective suits and 20,000 face shields to Malaysia, Indonesia, the Philippines and Thailand to support their pandemic campaign.
They have also donated medical supplies to Japan, South Korea, Iran, Italy, Spain, the United States and other hard-hit countries.
Wenzhou of Zhejiang Province sent a total of 2,779,000 medical supplies overseas, including 2,479,500 local government units and 299,500 from private enterprises.