Special: Battle Against Novel Coronavirus
Former U.S. Secretary of State Hillary Clinton on Wednesday critiqued President Donald Trump's recent usage of "Chinese Virus" to refer to the novel coronavirus as "racist rhetoric," which is an attempt to eclipse his poor response in curbing the virus outbreak.
Clinton tweeted on Wednesday that Trump's repeated usage of "Chinese Virus" is to distract the public from "his failures to take the coronavirus seriously early on" in terms of test kits distributions and other preparatory work.
"Don't fall for it. Don't let your friends and family fall for it," she said.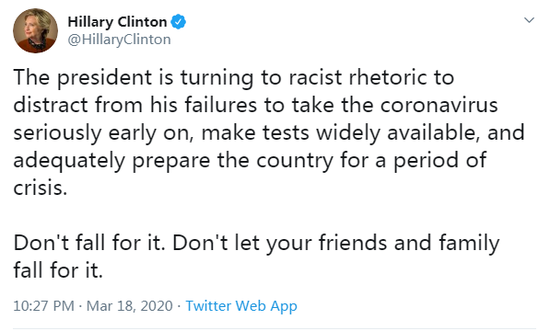 The U.S. government has been struggling to make testing kits and medical supplies available nationwide since the outbreak.
According to the Center for Systems Science and Engineering (CSSE) at Johns Hopkins University, nearly 10,000 people across 50 states in the United States have been tested positive, with an increase of about 2,000 in nine hours.
Trump on Tuesday described the COVID-19 as "Chinese Virus" in a tweet, and used the term again in several tweets later despite a deluge of criticism on his usage of words.
A number of U.S. political representatives and major media organizations have been criticizing his casual naming of "Chinese Virus," saying that it could stigmatize Chinese population and incite racism against Asians.
U.S. Representative Ted Lieu tweeted on Thursday in response to Trump's continuing use of "the Chinese Virus."
"Your language will cause more discrimination against Asian Americans," he said. "What would help is if you can get hospitals & first responders much more test kits & protective equipment."
He also wrote an op-ed for the Washington Post, slamming Trump that he "uses his pulpit to exacerbate xenophobia in a time of crisis."
Trump defended himself at a White House press conference saying that "it's not racist at all."
"It comes from China, that's why. I want to be accurate," he said.
In a Wednesday interview with CNN, New York City Mayor Bill de Blasio called on Trump administration for help in containing the virus.
He asked Trump to send troops to hard-hit regions, such as New York and Seattle, to help build hospitals.
Trump denied again on a tweet posted late Wednesday the accusation that he failed to deal with national emergency in a timely manner, boasting that he has done "a very good job from the beginning."
Now more than 200,000 cases of COVID-19 have been reported globally, taking the lives of more than 8,000 people, according to the World Health Organization (WHO).
WHO officials had warned the use of "Chinese Virus" as it officially named the disease caused by the virus as "COVID-19" to avoid stigmatization of certain countries or groups.
"Viruses know no borders and they don't care about your ethnicity, the color of your skin or how much money you have in the bank. So it's really important we be careful in the language we use, lest it leads to the profiling of individuals associated with the virus," said WHO Health Emergencies Program Executive Director Mike Ryan in response to Trump's usage of the "Chinese Virus" on Wednesday.
Chinese State Councilor and Foreign Minister Wang Yi, in a telephonic conversation with his Singaporean counterpart Vivian Balakrishnan, said that attempts by some forces to stigmatize and isolate China will not succeed.
The Chinese Foreign Ministry also stated that Trump's "Chinese Virus" tweet smears China and Beijing strongly opposes Trump's usage of words.