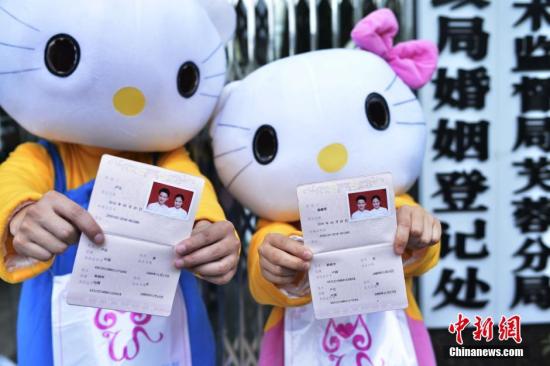 A couple dressing up as cartoon characters shows their marriage certificates. (File photo/China News Service)
(ECNS) -- The Ministry of Civil Affairs of China registered 9.47 million marriages in 2019, about 637,000 less than in 2018, continuing the downward trend that commenced in 2014.
A drop in the marriageable population is the main reason for the decline, said Yang Zongtao, a ministry official, at the press conference on Sunday.
With development of both economy and society, many people's concept of marriage has changed, he added. That means less chose to register.
The spread of higher education has also influenced the marriage rate, Yang said. With the expansion of schooling, young people are waiting longer to get married.
Marriage rate is closely related to birth rate, with the latter affecting economic and social development, it was pointed out.
Divorce and marriage rates in 2019 are still in calculation, said Wang Jinhua, director of the ministry's department of social affairs.