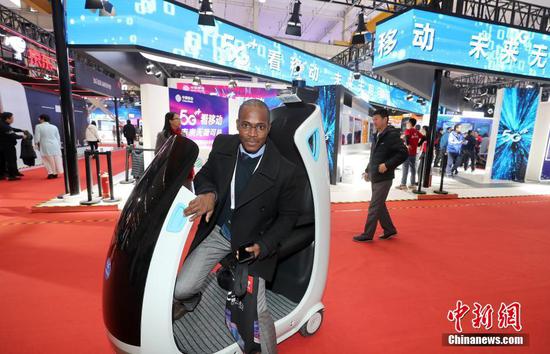 A visitor experiences the smart driving of 5G technology at the World 5G Convention in Beijing, November 21, 2019. (File photo/China News Service)
(ECNS) -- Shenzhen and Beijing top all Chinese cities in demand for 5G talent, according to a report released by Liepin, a job-hunting website.
Of the top 10 cities in demand for high-end 5G talent, Shenzhen took first place and Beijing second, accounting for 18.3 percent and 18.1 percent respectively, while Shanghai was 13.8 percent.
As the first-tier cities in China, Shenzhen, Beijing and Shanghai are home to many high-tech companies. Shenzhen is the headquarters of leading telecom companies Huawei and ZTE, with strong hardware manufacturing capabilities, while Beijing has many internet companies.
Of the major sectors of 5G technology, demand for 5G application talent accounts for the largest share at 60.7 percent, including professionals of intelligent security devices, smart home, smart city and autonomous driving.
5G application are closely related to daily life and entertainment, providing huge potential for job opportunities.
The 10 hottest positions for 5G-related jobs in 2019 indicate that demand for back-end development talent is the highest, followed by algorithm engineers.