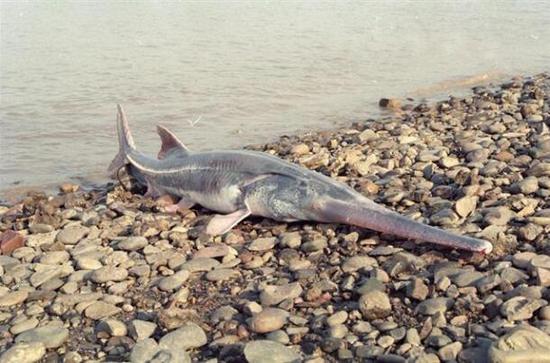 File photo of a Chinese paddlefish. (Photo source: Chutian Metropolis Daily)
(ECNS) -- Chinese paddlefish, king of all national freshwater fish and a rare species endemic to the Yangtze River, has been declared extinct, according to a Friday report.
It might have already gone extinct between 2005 and 2010, according to a study published in Science of The Total Environment by experts from Yangtze River Fisheries Research Institute.
Wei Qiwei, author of the study, said that in mid-September 2019 the International Union for Conservation of Nature (IUCN) declared the Chinese paddlefish extinct after assessment.
Scientists rescued a Chinese paddlefish in 2003, releasing and tracking it for observation purposes. However, their boat got wrecked after hitting a reef, with radio signals obtained from the paddlefish disappearing.
This was regarded the last contact with a Chinese paddlefish, in the absence of other wild or cultured individuals.
The IUCN said there was currently no evidence of the existence of Chinese paddlefish, but that if one was caught or recorded, its endangered status would be reconsidered.
One of the world's 10 largest freshwater fish, Chinese paddlefish grows up to eight meters long. It was one of the few ancient fish surviving from the Mesozoic Cretaceous period.
The Chinese and Yangtze sturgeons, both endemic to the Yangtze basin, are rated critically endangered by IUCN.
On Wednesday, China's Ministry of Agriculture and Rural Affairs announced a 10-year fishing ban along key areas of Yangtze River to protect biodiversity in the country's longest waterway.
Starting this year, the ban will be observed across 332 conservation areas in the Yangtze River basin, including natural waterways of large lakes connected to the river.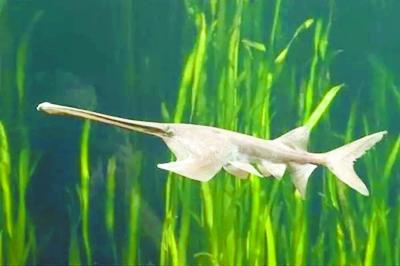 File photo of a Chinese paddlefish. (Photo source: CCTV)