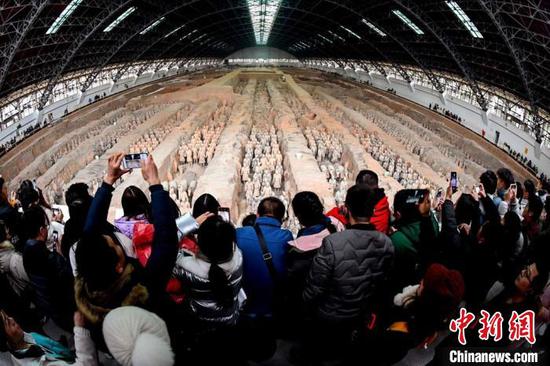 Tourists visit the Emperor Qinshihuang's Mausoleum Site Museum in Xi'an, Shaanxi Province, Jan. 1, 2020. (Photo/China News Service)
(ECNS) -- A total 9,029,070 tourists visited the Emperor Qinshihuang's Mausoleum Site Museum in 2019, 5.23 percent higher than in 2018, it announced on Wednesday.
In 2019, the museum adopted effective measures including limiting daily entry, to provide visitors a positive environment.
Located in Xi'an, capital of Northwest China's Shaanxi Province and containing Qinshihuang Terracotta Warriors and Horses Museum as well as Qinshihuang Mausoleum Ruins Park, the museum is a National AAAAA tourist attraction.
It is known as one of the largest archaeological reserves in the world, with the largest scale, most complex construction and most buried relics in ancient China.
The terracotta warrior collection is one of the greatest archaeological finds of the 20th century.