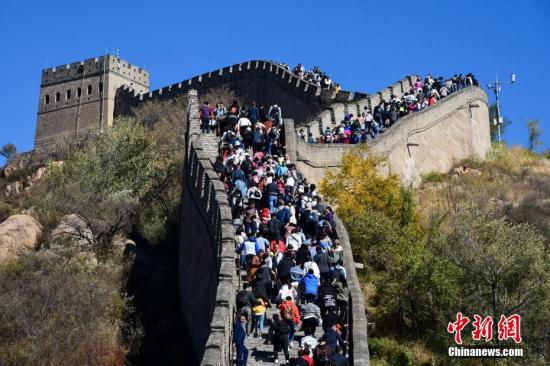 Tourists visit the Great Wall in Beijing, Oct. 6, 2019. (File photo/China News Service)
(ECNS) -- Beijing, capital of China, has proposed 26 measures to promote culture and tourism integration, according to a report released Wednesday.
Cultural integration with other industries such as tourism, education and business will be carried out to stimulate the development of cultural tourism.
The city will introduce advanced technologies such as 5G, artificial intelligence, big data and cloud computing to provide citizens and tourists with more intelligent, convenient and precise public services.
It will build an integrated development pattern of "One city, three belts, one district and one circle"to create a world-class cultural tourism experience.
Beijing is the first city in China to issue a document promoting the integrated development of culture and tourism at the provincial level.