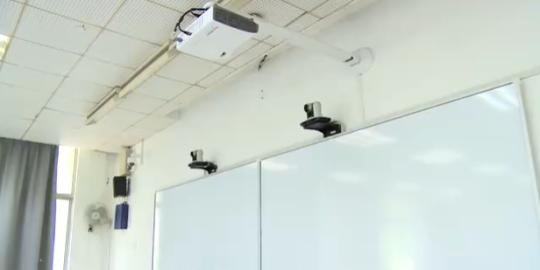 Electronic monitors are installed in a classroom in China Pharmaceutical University. (Photo/www.thepaper.cn)
(ECNS) -- China Pharmaceutical University, located in Nanjing City of Jiangsu Province, has adopted a facial recognition system to help improve class management, saying this will not violate personal privacy, The Paper reported on Monday.
The system has been applied at the university gate, and at entrances to the dormitory building, library, lab, and two classrooms so far.
This new system was initiated to enhance class attendance and discipline as some students used to ask others to answer the roll call on their behalf or leave a class prematurely while a teacher was inattentive.
Face recognition can record all acts of a student in the classroom, according to the university.
Xu Jianzhen, director of the Library and Information Center at the university, said the system has information about all teachers and students so they can easily pass a gate control by looking at a device. "This is more convenient and safe," Xu said.
The university had sought comments from police and the legal affairs department before installing the system, he added.
"A class room is a public place, so this system will not lead to a violation of personal privacy," Xu said.
The university will decide whether to expand the system to all classrooms after considering opinions from its educational administration department.