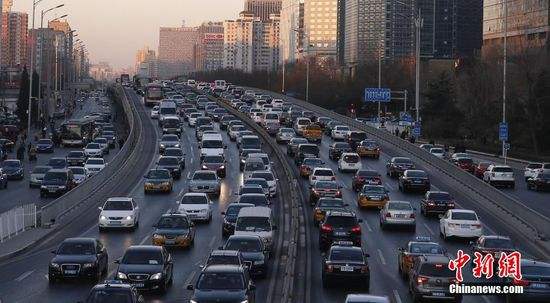 Heavy traffic is seen on the road in Beijing. (File photo/China News Service)
(ECNS) -- China, the world's largest vehicle market, will support regions that pilot areas off limits to fossil fuel cars amid efforts to create a timetable for phasing out polluting vehicles.
In a statement, the Ministry of Industry and Information Technology said buses and taxis will be encouraged to introduce more environmentally friendly vehicles to replace those running on petrol and diesel.
By the end of 2018, production and sales of new energy vehicles totaled more than 3 million, accounting for more than half of the global total and ranking first in the world for four years in a row, the statement said.
The ministry said it is working with the Development and Reform Commission and other departments to form a comprehensive study of a possible sales ban on fossil fuel cars, which will consider the technology costs, energy-saving potential and market demand.
However, as China's vehicle development varies considerably in different regions, it will be necessary to roll out a region-specific policy, the ministry said.
China will accelerate its pace in setting guidelines for the new energy vehicle industry from 2021 to 2035, it added.