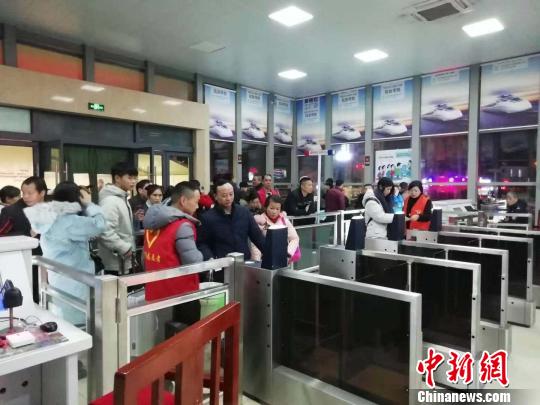 Passengers pass through an automatic barrier at a railway station in Jiaxing, Zhejiang Province. (File photo)
Special: 70th birthday of PRChina
(ECNS) -- A ticket-check system based on facial recognition will be expanded to 17 more railway stations in the Yangtze River Delta region, a key economic hub of China, according to the China Railway Shanghai Bureau Group.
Authorities plan to install 104 devices allowing passengers to board trains in the later half of this year, bringing the total number of such devices to 580, located at 65 stations in 40 cities.
The new stations supporting face recognition-based boarding include one in Yiwu City, the world's largest wholesale market for daily commodities, and another in Wenzhou City, known for thriving private enterprises.
The Yangtze River Delta has seen steady growth in railway passengers, with 2.2 million per day reported this summer. A historic record was made on August 17, with 2.712 million passengers traveling on one day, a year-on-year increase of 31.8 percent.
Railway authorities say it is an inevitable trend for machines to verify passenger IDs, replacing human ticket inspectors, as the new technology is more efficient.
Hangzhou East Station, one of the earliest to adopt face recognition, no longer struggles with lengthy queues of passengers because the 36 devices are approximately 10 times more efficient than previous systems, says Fu Zhilong, an officer at the station.