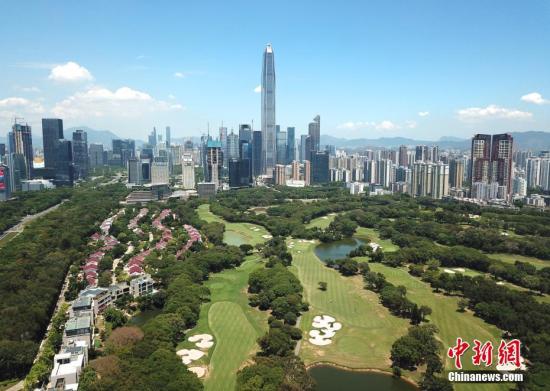 Aerial view of a financial zone in Shenzhen. (File photo/China News Service)
Special: 70th birthday of PRChina
(ECNS) -- Chinese entrepreneurs had higher confidence in the first half of 2019 than the previous 18 months due to government policy initiatives, lower taxes and development opportunities, according to a report released on Sunday.
A survey of more than 1,000 Chinese entrepreneurs found the confidence index was 56.88, up from 52.69, 56.21, and 56.24 in the second and first half of last year and the second half in 2017. The report was released at Yabuli China Entrepreneurs Forum 2019.
The major contributor to growing confidence was the improving social and cultural environment formed by China's initiatives to encourage innovation, integrity and entrepreneurship, said Wang Yong, deputy dean of the Minsheng Institute of Economic Research at Tsinghua University.
Policy incentives such as cuts in taxes and fees, the development plan for the Guangdong-Hong Kong-Macao Greater Bay Area as well as China's new sci-tech board, have underpinned growing business confidence.
The business environment index reached 63.52, up 4.87 percent from the second half of last year, with entrepreneurs the most satisfied with streamlined services to start a business and protection of business interests.
Entrepreneurs also believed that reform toward mixed ownership of state-owned enterprises (SOEs) improves competitiveness and expands sources of funding, with the involvement of private investors helping build a fair environment that lowers market barriers.