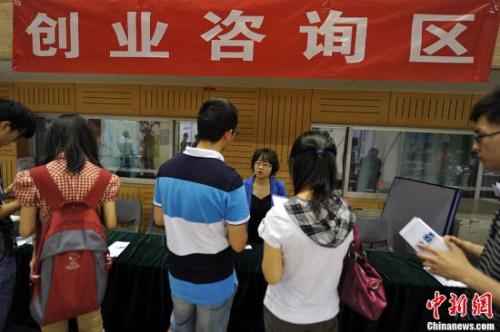 College students consult staff at an entrepreneurship seminar. (File photo/China News Service)
(ECNS) -- More than half of Chinese college graduates who chose to be self-employed upon graduation gave up their entrepreneurial effort in three years, according to a report by MyCOS, an education consulting and research institute in Beijing.
Based on feedback from students who graduated in 2018, the report found 2.7 percent became self-employed, a slight fall from 2.9 percent in 2014.
It also showed that 6.2 percent of university graduates in 2015 launched start-ups after graduation. Among them, 19.8 percent chose to work in education. But only 44.8 percent were still engaged in their endeavor three years later, a survival rate 1.4 percentage points lower than those who graduated in 2014.
The good news was that those who continued for three years in entrepreneurship saw their average monthly income rise from 5,131 yuan ($742) at the start to 11,882 yuan, up 132 percent over the period.