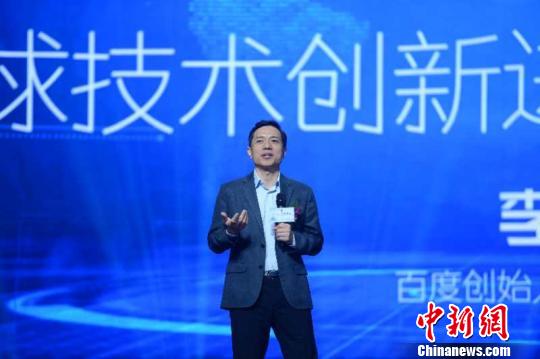 Robin Li Yanhong, the CEO and cofounder of Baidu. (Photo: China News Service/Yang Huafeng)
(ECNS) - China is gradually playing a defining role in global technology innovation, said Robin Li Yanhong, the CEO and cofounder of Baidu, China's top search engine.
Speaking at the 2019 Internet Yuelu Summit, Li said most people think of cars when they talk about intelligent Internet, but its effects will become more far-reaching for all of society in the future.
In the past 20 years, Chinese people have become more and more reliant on their mobile phones, but that dependency will decline gradually over the next two decades because of the growth of artificial intelligence, he said.
"Our living environment will be filled with all kinds of sensors and they will easily be able to respond to people's requirements… in every industry there is great potential for the development of intelligent equipment and machines to learn more and more about the needs of people, and how to meet those needs," said Li.
China is taking a leading role in applying artificial intelligence to various problems, as seen in the transformation of the real economy and the emphasis placed on innovation-driven growth, he said.
China will encounter unique difficulties when compared with other parts of the world, therefore it will have the opportunity to discover innovative solutions and promote technical development, enabling the country to take a leading role in these endeavors, added Li.
Since it kicked off in 2016, the summit, named after the historical and cultural mountain of Yuelu in Hunan Province, has become an important event to acknowledge industry achievements and uncover trends.