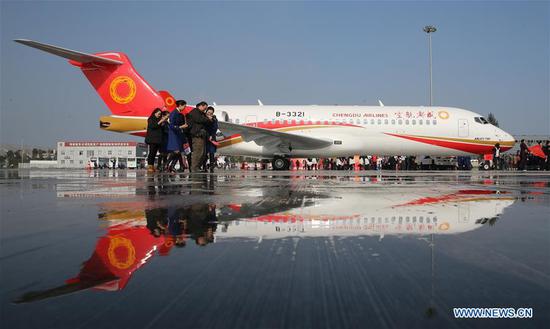 The ARJ21, China's first commericial regional aircraft, is parked at the Shuangliu International Airport in Chengdu, capital of southwest China's Sichuan Province, Nov. 29, 2015. (Xinhua/Pei Xin)
(ECNS) - Chinese air carriers have flown for 99 months without a major fatal crash, a combined total of 67.37 million hours of safe flights, Bao Yi, chief of the planning department at the Civil Aviation Administration of China, said on Monday.
Bao said at a press conference that China has achieved an excellent safety record and ranks among the world's best.
China has had the world's second-largest civil aviation industry since 2005 and is now narrowing the gap with the United States, said Bao.
By the end of November, there are 60 air transportation companies, 3,549 aircraft, 410 general aviation airlines and 232 transport airports in China. Among the 234 airports in the country, 37 reported annual passenger volumes of more than 10 million while 10 serviced 30 million passengers a year.In 2017, China's civil aviation contributed more than 25 percent to the growth of world civil aviation and over 55 percent in the Asia-Pacific region.
According to an administration action plan, China's civil aviation aims to leap from an air transport power to a power on many fronts from 2021 to 2035, such as developing a world-leading airline, a strong international aviation hub and a first-class aviation service system.