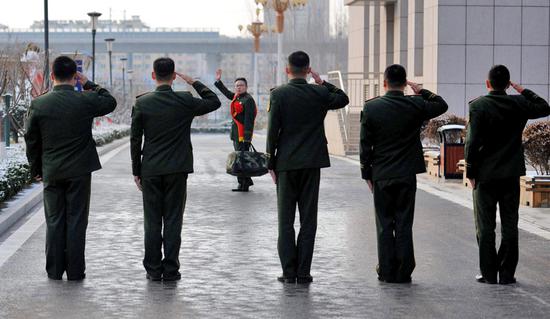 Soldiers from a branch of the border defense forces in Yantai, Shandong province, see off a demobilized soldier. (TANG KE/FOR CHINA DAILY)
Several local governments have adopted measures to help veterans land jobs, following the central government's promise of an all-out effort to boost their well-being.
The Beijing Municipal Bureau of Veterans Affairs organized a job fair on Tuesday for employers and veterans in the capital. More than 270 State-owned enterprises and private companies took part. It was the first of its kind for military retirees after the bureau was founded. Nearly 1,000 job vacancies were made available.
Miao Lifeng, who heads the bureau, told China Central Television that more than 400 companies applied for a place in the job fair to support veterans, noting that around 660 retirees received initial offers at the event.
In late October, the municipal government arranged a similar fair for former soldiers to connect with State-owned enterprises. More than 100 veterans landed jobs at that gathering, local newspapers reported.
In late November, authorities in Zhejiang province published a set of 23 guidelines to help veterans find jobs or start their own businesses.
Under those guidelines, ex-military personnel in Zhejiang are eligible for free vocational training. State-owned companies must reserve a certain proportion of their job openings each year for ex-soldiers, while government organizations are encouraged to employ more veterans. Veterans who start a business or who hire at least three other military retirees will receive government subsidies for up to three years.
In mid-November, Hunan province held a series of recruitment activities to help ex-soldiers enter the civilian workforce. A total of 210 companies have taken part, offering more than 4,800 positions to veterans.
The central government published guidelines in August to help veterans find civilian jobs or start businesses. Under the guidelines, each veteran is eligible for two years of free vocational training and a living allowance during the training period.
Employers are urged to give preference to veterans in recruitment, set lower requirements for job applicants who have served in the military and arrange periodic training for any veteran they hire.
Enterprises that hire veterans may be eligible for tax benefits if they meet certain criteria.
County governments or higher authorities have been asked to organize at least two job fairs for military retirees each year, according to the guidelines.
On Sunday, the ministry ordered the protection of veterans' rights at all levels of government and reemphasized proper handling of veterans' petitions. It urged relevant departments to fully implement policies to improve veterans' welfare, including helping them find jobs.
According to Sun Shaocheng, minister of veterans affairs, more than 530,000 personnel will retire from the armed forces in 2018.
Since the founding of the People's Republic of China in 1949, more than 57 million military personnel have re-entered civilian life, the ministry said.