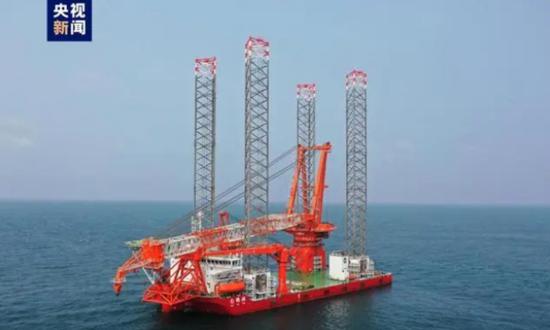 The world's first 2,000-ton-class offshore wind power installation platform named Baihetan was formally delivered and put into operation in Guangzhou, South China's Guangdong Province, according to China Media Group (CMG). The move is expected to accelerate China's offshore wind power installation capacity in deep-sea areas and promote affordable access to offshore wind power.
Baihetan is an integrated wind power installation platform with the strongest lifting capacity, the deepest operating water depth, the largest variable load and the largest deck area in the world.
The 126-meter-long, 50-meter-wide vessel also integrates functions such as transport, self-elevation, lifting and dynamic positioning and can meet the requirements needed for operating in deep and remote seas.
The delivery will help the development of China's offshore windmill installation and provide strong support for the country's centralized large-scale development of wind power project.
Baihetan is also equipped with four triangular truss legs that enable it to work underwater as deep as 70 meters. It is also equipped with a 2,000-ton level lifting system which is expected to improve its operational efficiency.
The vessel's dynamic positioning system can automatically maintain the ship's position in case of a moving part or single system failure, effectively improving the safety of offshore operations.
In addition, the ship uses full electric fully-revolving steering oars as part of its propelling system, which makes the vessel operate in a low-carbon and green way.
Baihetan will be mainly operating in South China's Guangdong and East China's Fujian provinces.
Surging offshore wind power has accelerated China's green development.
China's newly installed capacity of grid-connected wind power reached 47.57 million kilowatts in 2021, with offshore wind power accounting for over one-third, according to Xinhua News Agency.
China's usage of renewable energy sources will surpass 50 percent in the overall energy usage increments by 2025, and wind and solar energies will be doubled over 2020.