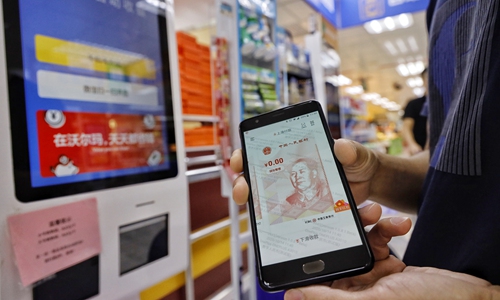 Residents who received "red packets" of digital RMB use the money in stores in Shenzhen, Guangdong Province, on Wednesday. The city launched a pilot program to distribute 10m yuan ($1.49m) in the form of digital currency to residents on Monday. (Photo:Li Hao/GT)
Several Chinese cities are planning to support trials of China's sovereign digital currency - Digital Currency Electronic Payment (DCEP) - in their tone-setting government work plans for 2021, which observers said would mark a positive start for a year that could pave the way for the currency's official launch.
Beijing Mayor Chen Jining said on Sunday that the capital will accelerate the building of innovative demonstration zones for fintech and professional services in 2021, and it will promote the pilot application of the digital currency.
He made the comment when delivering a local government report at the opening ceremony of the fourth session of the 15th Beijing Municipal People's Congress.
Shanghai Mayor Gong Zheng said on Sunday, when delivering a government work report, that the city will continue financial opening-up and the promotion of the digital currency.
Ma Xingrui, governor of South China's Guangdong Province, vowed on Sunday during the opening ceremony of the local two sessions that authorities will support the development of the city of Shenzhen into an innovative pilot zone for the country's digital currency.
Shenzhen, dubbed as China's Silicon Valley, held the third round of digital currency pilot tests starting on January 20, issuing 20 million digital yuan ($3.09 million) to residents in Longhua District.
Industry observers said that these plans by China's first-tier cities send a clear signal that DCEP will be subject to large-scale testing this year against the backdrop of a global race, which will lay a solid foundation for its launch in the near future.
"The pilot testing is only the first step of a 'long march.' Once launched, the digital yuan will reshape China's financial industry and unleash a promising digital finance service sector worth billions of yuan," a Shenzhen-based veteran industry insider told the Global Times on Sunday.
In 2020, the trial operation of DCEP expanded from small-scale closed-loop testing to large-scale open testing.
The tests were carried out in a handful of cities including Shenzhen, Shanghai, Suzhou in East China's Jiangsu Province, Chengdu, capital of Southwest China's Sichuan Province, and Xiongan New Area, North China's Hebei Province.
In addition to offline payments, the digital yuan wallet also supported online payments in e-commerce platforms in trial runs.
On a global scale, four-fifths of the central banks in major economies have begun research and development on central bank-backed digital currencies, according to media reports.