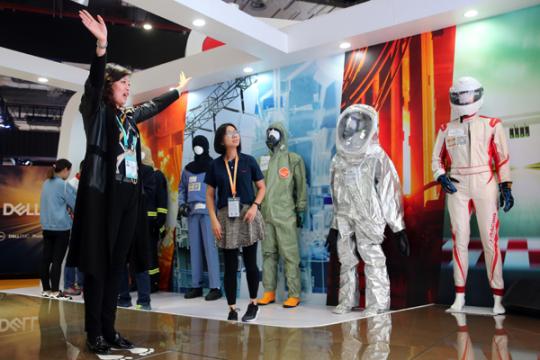 Virtual reality technology makes an impression at the DuPont exhibition booth during the China International Import Expo. (Photo by Wang Zhuangfei/China Daily)
Alexa Dembek champions DuPont's China strategy to focus on several businesses
Alexa Dembek accepted the job of chief technology and sustainability officer at DuPont because she loves chemistry and was in search of a better life.
So, a senior management job with an industrial group seemed appropriate, more so because it involved a lot of work relating to China, the world's second-largest economy that has been switching its emphasis from exports to consumption, supported by high-end technologies and services in various fields.
A DuPont veteran with 28 years of service under her belt, Dembek said that the technology-strong material and ingredients manufacturer will focus on several businesses, including transportation, safety, electronics, water, health and wellness to develop the Chinese market in the long run.
"We will focus on the key trends impacting the society and how our innovative technologies and materials can best help meet those needs," she said.
These trends, she said, also include advancing smart cities and devices, key components for autonomous vehicles, industrial protection materials, providing clean water and healthy food, improving energy efficiency and reducing waste.
"DuPont is thrilled about the fact that China has been encouraging domestic companies to create more high added-value in their product lines, as well as promote sustainable development," said Dembek, who is also the group's senior vice-president, noting the nation's demand for high-end materials therefore will remain attractive for global players.
To better understand local customers' needs and challenges, the Delaware-headquartered company expanded its Shanghai Innovation Center this year. Established in 2014, this innovation facility is a communication and demonstration platform for use with local and global clients, scholars and institutions.
After announcing a significant investment in a new manufacturing hub in Zhangjiagang, Jiangsu province, to support its transportation and industrial businesses in 2018, the company also expanded the manufacturing capacity of its transportation and industrial facility in Shenzhen, Guangdong province, this year.
After entering China and establishing its first office in Beijing in 1984, DuPont grew over the years, and now has around 3,500 employees, two research and development centers and one innovation center across China. Its businesses span nutrition and biosciences to transportation and advanced polymers.
Dembek stressed that China has always been an important part of the company's global strategy. The country's 40 years of reform and opening-up is a process of continuous improvement for the business environment, regulation of business rules and strengthening of business governance.
"We have discovered notable changes in the consumption and manufacturing sectors with evolving patterns and steady expansion," said Dembek.
For instance, more than 400 million of China's population are in middle-income groups, seeking a broader range of dietary options and showing a growing concern for the quality and safety of food, domestic appliances and daily items.
She said the company is benefiting from China's offer of favorable conditions to multinational companies and this in turn enables global businesses to envision future development in a flourishing Chinese market with confidence, working in partnerships and seeking opportunities across the value chain.
Eager to seize more market share and promote brand awareness in China, DuPont showcased a portfolio of products focused on four key themes: connectivity and mobility, healthy living, urbanization and safety, and environmental protection during the second China International Import Expo held in Shanghai in November.
Joining DuPont as a research chemist and a technical manager, and having worked at various posts in areas such as supply chain, operations, sales and marketing, Dembek said that firms don't innovate, their people do. She believes one of the practical ways to motivate people is to make sure they are engaged and excited about the work they are doing.
"At DuPont, we encourage continuous, lifelong learning among our employees and strive to create an environment where employees are empowered to take control of their jobs," she said.
Zhao Ying, a researcher at the Beijing-based Institute of Industrial Economics, which is part of the Chinese Academy of Social Sciences, said demand for high-end manufacturing in China is among the world's fastest-growing. Many domestic companies are seeking new materials and solutions to get products to market faster with decent prices, to improve their asset utilization and cut associated risks.
While large companies are making notable strides in terms of digital transformation, many global technology and material providers have also begun to allocate financial resources to innovation and marketing channel expansion for small and medium-sized enterprises. They are keen to restore their core strength, as well as forming new cross-industry partnerships with other players, he said.
Dembek leads business and innovation strategy alignment to make the most effective portfolio choices for DuPont. Her goal is to make every investment dollar count. Besides, she strives to quickly drive innovation to market. Dembek also serves on the dean's advisory board for the Eberly College of Science at Pennsylvania State University.