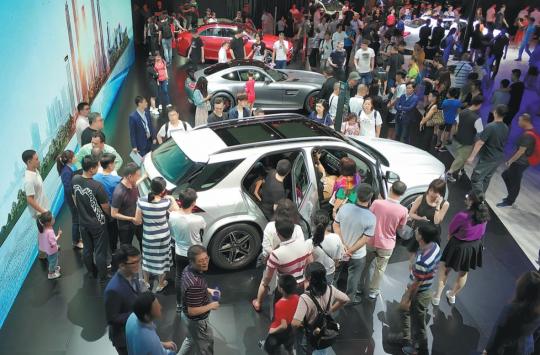 Visitors examine cars at the 2019 Shenzhen-Hong Kong-Macao International Auto Show held in Shenzhen, Guangdong Province in early June. (Photo provided to China Daily)
More pressure for sales teams predicted as rules to tighten Chinese auto market
China's auto dealers are likely to face more pressure in June because of weaker demand compounded by the earlier-than-expected adoption of tougher emissions standards in some regions, according to a leading industry association.
The prediction comes on the back of reduced sales growth that has continued for a period of 10 straight months.
"The demand has remained sluggish for months because of the overall economic situation. But as it gets hotter, dealerships are expecting fewer customers than in May," said Lang Xuehong, a deputy secretary-general of the China Automobile Dealers Association, last week.
"Besides, farmers in northern China will soon be busy harvesting wheat in June so sales of low-end vehicles will be hurt further," she said.
Lang is not a lone pessimist in the world's largest car market. Almost half of some 1,000 dealerships that sell 55 brands of vehicles, both Chinese and overseas made, held a similar estimate, according to a recent survey by the association.
Another major source of their pessimism is the adoption of the stricter State VI emissions standards in some 18 provinces and municipalities starting from July, one year earlier than the national plan.
When the new standards are put in place, models built in accordance with State V standards will not be allowed to be registered.
Lang said this has prompted potential customers to adopt a wait-and-see attitude as there are only a few models in line with the new standards, thus prompting dealers to offer discounts, further hurting their profits.
To make matters worse, as dealers fight against the clock to cut their inventories, some carmakers are forcing them to take on models produced with the old standards instead of new ones, she said.
Considering the situation, Lang said the authorities should offer a three-month grace period to help sell the older vehicles.
Xiao Zhengsan, secretary-general of the association, called for carmakers to play their role in ensuring a smooth transition.
"Carmakers should work out a detailed schedule and stop offering old-standard models to dealerships in regions that will introduce the new emissions standards," said Xiao.
"If they cannot sell off all old-standard models by July, carmakers should take the models back," he said.
Starting from July 2018, when the first monthly sales dip was spotted, auto dealers have been haunted by poor sales and unhealthy inventories for 10 months.
In this year alone, the Vehicle Inventory Alert Index, a major barometer of the automotive market, has been hovering above 50 percent from January to May.
When the market is healthy, the figure, which is compiled based on such factors as stock, market demand and dealerships' financial conditions, should be lower than 50 percent, said the association.
In May, the figure was 54 percent, 7 percent lower than in April. But that was not because of a recovery in market demand but mainly the result of dealerships' promotional campaigns to sell off old-standard vehicles.
"Statistically, we had a better performance, but that was achieved at a heavy cost by the dealers," said Lang.
And despite the effort, the figure was 0.7 of a percentage point higher than the same month last year.
The association has not released sales of new vehicles in May, but Lang said they are certain to fall year-on-year.
"The fall must be above 8 percent from May 2018. It could even be a double-digit fall."
Lang said the situation will not turn better in June although sales might grow in some regions, mainly those that have to adopt the State VI emissions standards from July. She cautioned that that will have a lot to do with the promotional events instead of real market demand.
To make matters worse, auto dealers in those regions will not have adequate supplies of the new-standard models soon enough, as many carmakers, especially Chinese ones, have not been well prepared for the transition, said Lang.