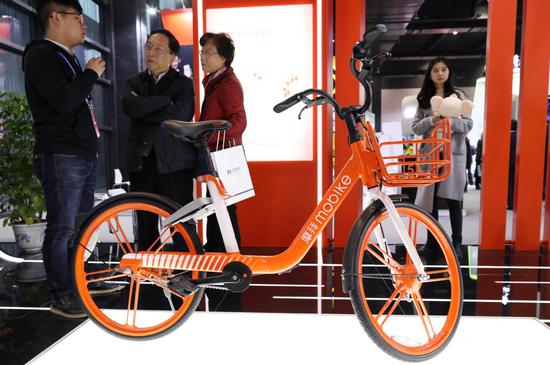 A Mobike bicycle is displayed during a high-tech exhibition in Wuzhen, Zhejiang province.(Photo by Zhu Xingxin / China Daily)
Hu Weiwei, co-founder of Beijing Mobike Technology Co Ltd, has stepped down as its CEO, placing more uncertainty on the future of the bike-sharing startup.
The move followed shortly after Mobike's cash-strapped rival Ofo Inc came under fire for stalling on deposit refunds. Once touted as investor darlings, the two companies seem to be pedaling toward an unforeseeable future due to overexpansion and struggling to find profitable business models, analysts said.
Mobike said Hu resigned for personal reasons, and Liu Yu, president of Mobike, will take her place.
Hu's departure means that most of Mobike's founding team members have now left the three-year-old company.
In April, Mobike was acquired by China's largest provider of on-demand online services, Meituan-Dianping. In November, Wang Xing, CEO of Meituan-Dianping, became the largest shareholder of Mobike with a 95 percent stake.
Wang thanked Hu in a statement for not only creating and shaping the Mobike brand, but also cultivating an excellent team and laying down a sound business foundation.
In the past two years, bike-sharing fever has swept across China, with colored dockless bikes popping up across major cities and providing convenient rental services via smartphone apps.
Supported by venture capital investments, Mobike and Ofo expanded rapidly at home and abroad, with the two scrambling to outmaneuver each other by offering loss-making rental prices.
But as the fever has cooled, investors are finding it hard to see returns, especially in winter when temperatures drop below zero and the number of active users plummets.
"Ofo and Mobike invested heavily to accelerate their rapid market expansion before they had comprehensive business models. They were driven ahead by money. Later, however, investors thought the cost was too high and they did not want to wait longer for the two startups to grow," said Zhu Wei, a researcher at the China University of Political Science and Law.
Sun Naiyue, an analyst at Beijing-based internet consultancy Analysys, said China's bike rental fever is nearing an end.
"The bike-sharing sector's profit model is unclear, due to its asset-heavy business and high costs. As a result, it is more likely we will see shared bikes become part of tech giants' wider ecosystem," Sun said.
But so far, little progress has been made to integrate Mobike's service into Meituan-Dianping's businesses after the acquisition in April, experts said.
According to app tracker Analysys Qianfan, Mobike has taken the top spot in November, with more than 18 million monthly active users, while Ofo has fallen to second with over 17 million monthly active users, a decrease of 24 percent month-on-month.