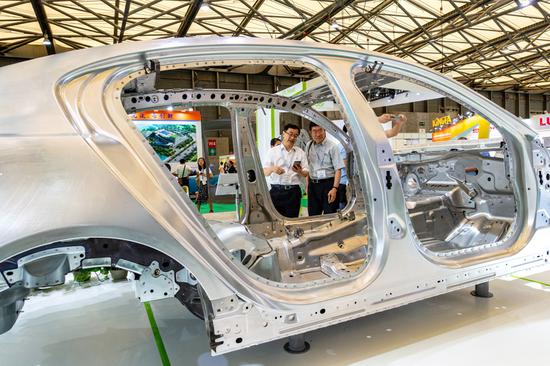 Visitors check out a Novelis aluminum flat-rolled product during an automobile expo in Shanghai. (Photo provided to China Daily)
Atlanta-based industrial aluminum company Novelis is adding a new customer solution center in Shanghai and doubling capacity at its plant in Changzhou, Jiangsu province, as it attempts to keep up with rising demand from China, said a senior executive.
"China's demand for aluminum flat-rolled products will increase from the current level of about 10 percent of the global automotive aluminum market to 25 percent by 2025," noted Pierre Labat, vice-president of global automotive, Novelis.
To help meet the demand, the firm is investing $180 million into expanding its Changzhou plant. Due to be completed in the second half of 2020, it will boost the facility's annual production capacity of heat-treated aluminum sheet by 100,000 metric tons.
After the expansion, Labat predicts Novelis China will contribute about 20 percent of Novelis' global automotive sales from 2024 to 2025.
"We look at China as a high-growth market, the highest growth market in the world as far as aluminum is concerned ... it is also the largest automotive market in terms of income. So there are all the reasons to be present in this country," he said.
Novelis has also announced it will establish a customer solution center in Shanghai by the second half of 2019.
The Shanghai customer solution center will work together with the firm's two other customer solution centers-one in Michigan, the United States, and the other in Europe. The three centers will operate locally but also globally, said Labat.
As well as supporting Asian customers, Novelis hopes the new center will help sway Chinese manufacturers to adopt aluminum into their automobile manufacturing process, arguing it offers less weight, better fuel consumption, and lower emissions.
China still leads the world for automotive manufacturing and sales, posting 25.33 million units and 25.42 million units respectively from January to November, despite a slight drop in year-on-year growth, according to data from the China Association of Automobile Manufacturers.
"There is a real need for sustainable growth in China, both for conventional cars and new energy cars. Aluminum is definitely a green material," said James Liu, managing director of Novelis China, and vice-president of automotive, Novelis Asia.
In China at present, just 5 percent of vehicle bodies are aluminum. That compares to the more developed markets of North America and Europe, where the proportion is between 12 percent and 15 percent, presenting a huge opportunity for Novelis, a world-leading supplier of aluminum sheet to the automotive industry.
Meanwhile, China's new energy vehicle market kept up its robust growth during the Jan-Nov period, by manufacturing 1.05 million units and selling 1.03 million units, up 64 percent and 68 percent year-on-year respectively.
"In the past few years, Chinese automotive makers have made rapid progress in manufacturing lightweight vehicles, including electric carmaker Nio's all-aluminum vehicle," said Li Qingwen, president of the China Automobile Evaluation Academy.
Li expected this sector to achieve more innovation and breakthroughs as the research and development continues, which "will enable China to leapfrog to become a global leader".
"We are moving in China following transplant technology into leading the way of technology and innovation. That's why we are investing so much, not only in capacity, but also in engineering capabilities, equipment and most importantly people, talent ... We hope to locally show what great things can be done with innovation. We are in this transition right now," said Labat.
Introducing aluminum to the European and North American automotive markets more than four decades ago, Novelis products are now featured in 225 car models across the world.