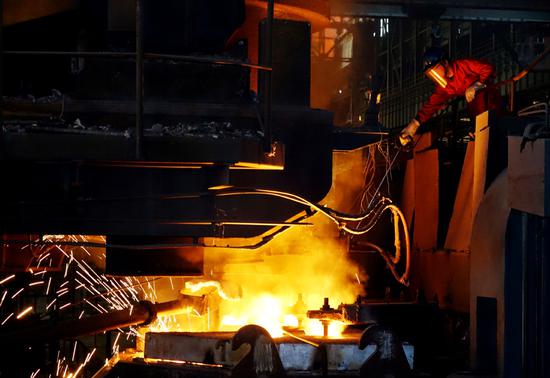 A worker tests the temperature of molten steel at a steel plant in Dalian, Liaoning province. (Photo by Liu Debin/For China Daily)
More central, local State-owned firms to participate with wider range of business areas
China will increase the number of pilot State-owned enterprises involved in mixed ownership reform in key areas and support the development of the non-public sector, a senior State asset regulator said on Tuesday.
The government will choose a number of centrally and locally-administered SOEs with a wider range of business categories to enrich the ongoing mixed ownership reform, said Weng Jieming, vice-chairman of the State-owned Assets Supervision and Administration Commission of the State Council.
"Mixed ownership reform should be a two-way street. The government will not only encourage non-public capital to participate in SOE reform, but also support the development of private business together with SOE resources," he said.
Between 2013 and 2017, private companies invested 1.1 trillion yuan ($158.5 billion) and 500 billion yuan respectively to take part in the mixed ownership reform of central and provincial SOEs through forms such as equity diversification and business outsourcing, data from the SASAC show.
The diversification of equity is to make SOEs have more than one equity holder.
In the meantime, provincial-level SOEs, particularly those in Zhejiang province, Beijing and Shanghai, also invested more than 600 billion yuan in non-public sectors.
Mixed ownership is vital to deepening SOE reforms, in order to improve the efficiency and competitiveness of State-owned assets. The reform will be undertaken in key sectors through multiple channels, he said.
The commission said that listed companies have become an important conduit of mixed ownership reform for SOEs as many quality SOE stocks are being traded in stock exchanges in both the Chinese mainland and Hong Kong.
By the end of 2017, the total assets of the central SOEs amounted to 54.5 trillion yuan, around 65 percent of which belonged to listed companies, up 11 percentage points from 54 percent at the end of 2012.
Eager to restore SOEs' earning ability, the SASAC selected China National Building Material Group Corp and China National Pharmaceutical Group Corp to carry out mixed ownership reform at the centrally-administered SOE level in 2014. About 70 percent and 90 percent of their sales revenue came from companies with mixed ownership by the end of 2017.
As the mixed ownership reform of these SOEs made impressive progress, China has selected 50 SOEs in three rounds to conduct such reform, from both the centrally and locally-administered levels, in fields including power, energy, civil aviation, telecommunications and the defense sector since 2016, the National Development and Reform Commission said in October.
Zhou Lisha, a researcher at the commission's research institute, said even though the central government has yet to release the names of the third batch of SOEs taking part in mixed-ownership reform, the SASAC would continue to deploy resources to transform its role from managing companies to managing their assets in order to offer them more decision-making power to further compete with other global giants.
According to the plan, the SASAC will step up mixed-ownership reforms in commercial SOEs from sectors such as manufacturing, retail and telecommunication within this year, as their main business is in a fully competitive market.