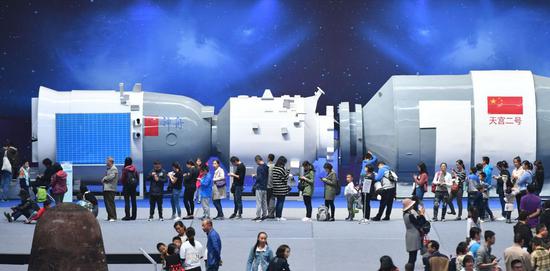 Visitors queue up to try out simulated games in front of a model of Tiangong-2 spacecraft at an aviation exhibition in Kunming, capital of Yunnan Province. (Photo/China News Service)
Special: 40YearsOfReform
Space contractor makes a mark in the global arena as policies boost development
The success of China Aerospace Science and Technology Corp (CASC) in the global space arena during the past four decades is rich testimony to the success of China's reform and opening-up policy since late 1978.
The Beijing-headquartered, State-owned space and defense giant now has more than 170,000 employees, eight large academies and a dozen listed companies. It was ranked 343rd in the Fortune Global 500 list in 2018, making it the fourth largest aerospace enterprise in the world by revenue after Boeing, Airbus and Lockheed Martin.
The success of the company is also testament to China's decision in 1978 to embark on reform and opening-up. In the 11 years from the start of the reform and opening-up to the end of 1989, China conducted 16 space missions and all of them were satellite launches. During the 1990s, 39 carrier rockets were launched, and the last of them ferried the first prototype of the Shenzhou spacecraft into space, opening China's manned space age.
From 2000 to November 2012, a total of 111 rockets sent hundreds of satellites, four manned spacecraft with eight Chinese astronauts as well as one space laboratory into space.
Since then, 124 space launches have been carried out during the past six years, evidence of China's relentless efforts to become a space power.
Almost all of the nation's space missions were fulfilled by the China Academy of Launch Vehicle Technology, China Academy of Space Technology and Shanghai Academy of Spaceflight Technology, all units of CASC.
Long-held aspirations
The Chinese people had long wished to realize their dream of "flying above the skies". Chinese scientists drafted a plan in the 1970s to develop a manned space program. However, they were unable to make it happen because of the nation's weak capabilities in space technology and manufacturing sector back then.
In 1986, a group of top Chinese scientists suggested that the government should consider the possibility of manned space flights and submitted a roadmap, which was approved by the Party leadership in 1992.
Thanks to CASC and its predecessor, China Aerospace Corp, the country moved fast toward its goals in manned space programs.
In October 2003, China carried out its first manned space mission, sending Yang Liwei to a 21-hour journey around the Earth in the Shenzhou V spacecraft.