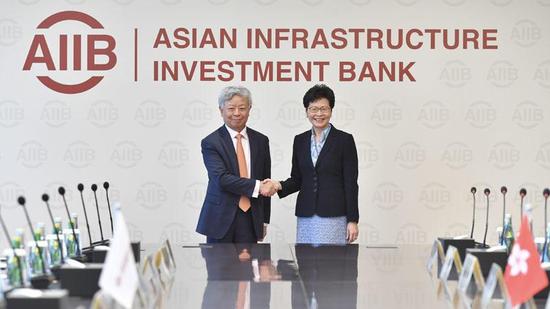 Hong Kong Chief Executive Carrie Lam (right) meets with the President of the Asian Infrastructure Investment Bank, Jin Liqun, in Beijing on July 26. 2018. (PHOTO / HKSAR GOVERNMENT)
Hong Kong will contribute US$10 million (HK$78.5million) to the Asian Infrastructure Investment Bank's (AIIB) Project Preparation Special Fund. The pledge was made in a bid to help low-income members build infrastructure, said Chief Executive Carrie Lam Cheng Yuet-ngor during a meeting with Jin Liqun, president of AIIB in Beijing on Thursday.
Jin welcomed HK's contribution and support to AIIB, saying that the fund was already helping members with high-quality infrastructure projects.
He praised the contribution of Hong Kong personnel to the institution and lauded their great dedication, which he credited to the special administrative region's (SAR) quality of governance and Lam's strong leadership.
Low-income members have a hard time executing bankable projects owing to financial and technical constraints. The fund will allow these underprivileged members hire consultants for conducting feasibility reviews, environmental, financial and legal assessments and to procure equipment or extend necessary training.
The fund was established in 2016. China committed US$50 million to the fund while the Republic of Korea and the United Kingdom committed US$8 million and US$50 million, respectively. With the contribution from the SAR, China's total contribution now stands at US$118 million. The fund is open for additional contributions.
AIIB has so far approved US$4.395 million for five special-fund projects in Sri Lanka, Nepal, Pakistan and Laos. The AIIB said more projects were being considered.
Hong Kong joined AIIB in June last year.
In the meeting, Lam thanked Jin for his support to help consolidate Hong Kong's role in AIIB and as a global financial hub. "We'd like to make more contribution with US$10 million to the Project Preparation plan, which is an indication of our intention to actively participate in the well-intentioned global initiatives, especially in helping low-income members."
Apart from monetary contributions, Lam said, Hong Kong also helped emerging economies along the Belt & Road with assistance in urban management and training.
Also at the meeting, Lam invited Jin to speak at the annual Asian Financial Forum to be held in Hong Kong in January next year.