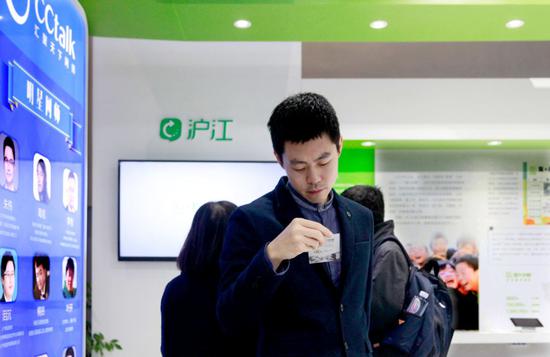 A visitor reads a pamphlet at the booth of Hujiang EdTech at a high-tech exhibition in Wuzhen, Zhejiang province. (Photo provided to China Daily)
Following in the footsteps of financial technology and online entertainment companies, educational technology firms are the latest emerging segment in the Chinese tech scene to join in the outbound listing frenzy this year.
In the past two weeks, major Chinese digital education firms including Hujiang Education & Technology (Shanghai) Corp Ltd and Koolearn Technology Holding Ltd, a subsidiary of New York-listed Oriental Education and Technology Group Inc, have flocked to apply for IPOs in Hong Kong.
They are joining a group of at least 12 education startups eyeing Hong Kong listings thus far as they jostle for position in the online learning industry, which is forecast by Frost & Sullivan to almost triple to 579.2 billion yuan ($85.5 billion) by 2022 from 199.3 billion yuan in 2017.
Government support, technological progress, and a cultural emphasis on education have all contributed to a burgeoning digital learning market in China, said Liu Jiehao, an analyst at consultancy iiMedia.
Both Koolearn and Hujiang offer thousands of online courses that target preschool children, primary and middle school students, college students and professionals, according to their prospectuses.
Such a wide spectrum of offerings is designed to cater to the lifelong learning mentality as a new default way of life for modern Chinese, and that spells huge market opportunities, Liu said.
But recruiting the biggest possible audience is not enough to secure victory. Companies are embracing new business models and cashing in on cultural context by incubating celebrity teachers to attract a more loyal customer base.
Apart from its business segment for proprietary courses, Shanghai-based Hujiang rolled out a community-based learning platform called CCtalk in October 2016, which allows teachers and students to interact in real time.
Unlike the traditional online classroom model, the platform has so far allowed more than 73,700 third parties to list courses, for which the company charges a service fee.
The segment's net billing skyrocketed to 235.7 million yuan by the end of 2017 from just 3.8 million a year ago, while the number of third-party institutions and independent teachers jumped more than tenfold and twentyfold respectively.
Direct monetization of end users and service fees remain the two major business models in the educational technology arena. But their effects can be greatly amplified as technology evolves and plays a bigger part, said Bao Rencheng, vice-president of internet, software, media and education sectors at ICBC International Holdings Ltd.
VIPKid, a leading portal targeting mostly children and youngsters, earlier this month introduced an augmented reality teaching method to engage mixed-ability classes and motivate pupils.
Hujiang has introduced Hitalk, a one-on-one service dedicated to colloquial English, and adopted artificial intelligence to quantify the multiple dimensions of speech.
The company also unveiled an Intelligent Study System featuring algorithms to tailor courses for each individual, so that they can challenge students without discouraging them to the extent that they give up.
According to iiMedia's Liu, educational technology is seeing rapid adoption in China where a tech-enabled population, growing capital influx, and explicit government support to funnel private funds into the industry are likely to sustain momentum in the long term.
"We expect to see multiple players thrive and prosper in the education tech market. Meanwhile, the top two to five companies are also likely to consolidate in the medium term in certain vertical curricula like K-12 English tutoring," Bao said.