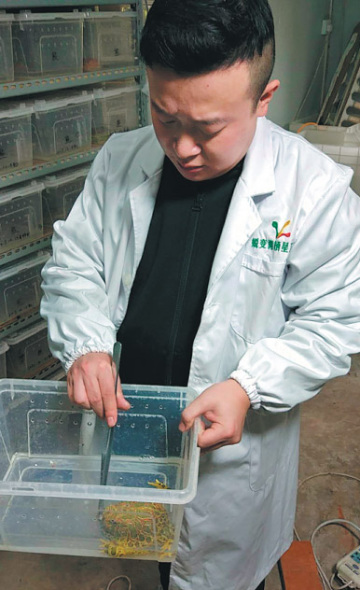 Li checks the health of a frog. (Photo/China Daily)
Every day, dressed in a white coat, he feeds and washes the frogs, and records their activities to find out the proper ways to breed them.
In the winter of 2013, an infectious disease killed more than 200 frogs at the farm and only 20 survived, which was a huge blow to Li's research. "I was heartbroken. All my efforts were in vain," he said.
Though he had debts of more than 600,000 yuan at the time, Li did not give up. In 2015, after countless setbacks, he became the first person in China to breed horned frogs. "I did it. It was unbelievable," he said.
Now his farm is the country's largest frog breeding base with dozens of species. Some unique ones sell for as much as 10,000 yuan. In peak seasons, the monthly revenue of the farm reaches 1 million yuan.
"Chinese frog lovers don't need to buy imported frogs anymore," Li said, adding that he now plans to build a breeding base.
"I want to develop some new species and make a contribution to conservation."