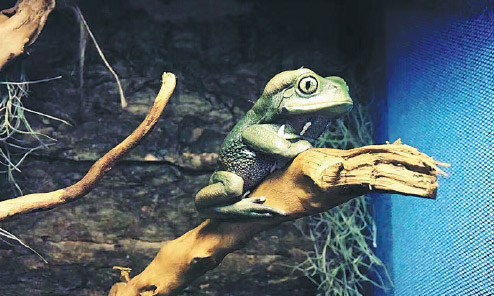 A Pacman frog sits on a branch in a tank in Li Shu's farm in Chongqing. (Photo/China Daily)
Former opera singer sets up lucrative pet breeding base containing dozens of species
While millions of Chinese have recently become obsessed with a mobile game about a traveling frog, a man in Chongqing has been raising amphibians as pets for years-and has turned his hobby into a promising business.
Li Shu, 31, used to be a Sichuan Opera singer and owned a dance club. But he loved collecting weird things, and in 2006, he bought an ornate horned frog at a pet market.
The species-known as a Pacman frog for its resemblance to the video game character-is one of the largest frogs people can purchase as a pet. Native to subtropical regions in Brazil and Argentina, this nocturnal frog typically lives for seven to 10 years.