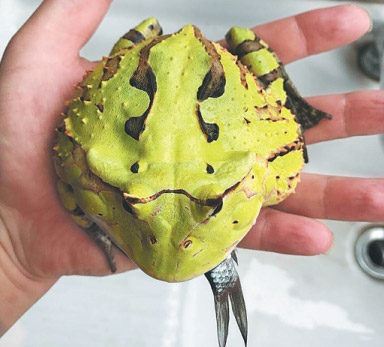 Li displays a frog raised on his farm. (Photo/China Daily)
"I had never seen a frog with such beautiful colors," Li said. "My life changed then, and now it's all about my frogs."
Like the Travel Frog game players who worry about their "tadpoles" every day, Li was besotted with the little creature and would check on it throughout the day to see its growth.
He began to collect more pet frogs, too. Some unique species cost tens of thousands of yuan, and he estimates he has spent nearly 1 million yuan ($158,000) on his hobby.
Li discovered that no one in China had the technology or experience to breed pet frogs and that all the horned frogs in the country were imported. So, without any related background, he had the bold idea to breed them domestically.
He spent all his time in research and even sold his dance club, which he had run for seven years.
"I was just a newcomer in China's amphibian fan circles at that time, but I love frogs so much," he said. "I wanted to make a difference."
Li built a frog farm in suburban Chongqing and started his breeding project. There were no reference books to consult, and he had to do everything on his own.